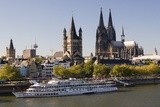 Bus Charter Service Cologne provides bus rental solutions for private and corporate clients. Rent our business bus or luxury coach and enjoy the way as we take you to your Cologne destination.
If you're looking for a bus charter service in the city of Cologne, then you've come to the right place. It doesn't matter whether your trip is for business or pleasure; we guarantee that we'll have the right bus or coach rental for you. We've had customers rent buses for business road shows and company outings; we've also had customers rent buses to explore Cologne's cultural life or go sightseeing throughout Germany.
Renting a bus is the perfect way to explore the lovely city of Cologne; Cologne is the cultural centre of the Rhineland and the home of a thriving avant-garde artist's community. You'll also find historical and architectural masterpieces the likes of the Cathedral, Shrine of the Three Magi and the 12 Romanesque churches. Getting a coach rental is also perfect if you've come to visit one of the many trade shows held here each year such as the Photokina, Gamescom, Anuga, EuVend and Intermot.
We have buses that can seat anywhere from 8 to 81 people. Our buses provide a maximum of comfort; they come equipped with DVD players and monitors, refrigerators, restrooms and washing facilities. It's easy to get a coach rental; all that you need to do is call our central office and speak to a dispatcher. Don't worry if you don't speak German; our highly-skilled drivers and dispatchers speak English and will do their best to make sure that your experience with us is a pleasant one.