How To Request Bus-Service Coach Hire in Frankfurt, Germany?
Hiring a minibus or bus hire Frankfurt at the Bus-Service is as easy as to say "One, Two, Three":
"One" - click the "Request Availability and Price" button below;
"Two" - fill the blank;
"Three" - we will send you all the information about the requested trip.
Our coach hire Frankfurt offer a personal transportation manager for significant events. Make a request using your e-mail:
"One" - click on the e-mail address on the top of this page;
"Two" - choose your preferred mailing system and send us information about where, when and how big your group of people should be;
"Three" - we will send you the best offer we can provide.
Rent a bus using a mobile/cellphone:
"One" - click on that green chat icon in the lower-right corner of the page;
"Two" - choose if you want to call via phone or to send a message via WhatsApp;
"Three" - we will answer your message or call and talk through all the details with you.
Bus Rental in Frankfurt and FRA Airport
Bus Charter Frankfurt provides bus rental services for private and corporate clients.
Rent our business buses and enjoy the ride to your destination in Frankfurt. Our company is the perfect choice for tourist outings and special employee events.
We arrange coaches, buses, minibuses, and mini coaches for large scale events, trips, and groups of any type, and we ensure our clients travel with absolute comfort across the city.
Whether you're going in one small group or a large group, we've got the transportation to cater to you.
Our friendly dispatchers are prepared to help you compose your itinerary and choose the coach hire that will best serve the needs of your employees or guests.
Check our fleet offer bellow and contact us for a reservation. We are able to provide you with the best transport solutions in Frankfurt, Germany.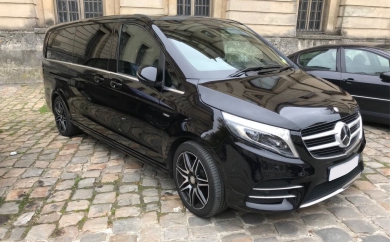 Van Class
Climate Control
Radio System
Navigation
A Van is an ideal vehicle for airport transfers, trade fair and event shuttle.
Made for small groups of people. We offer meet and great service for all of our airport transfer clients.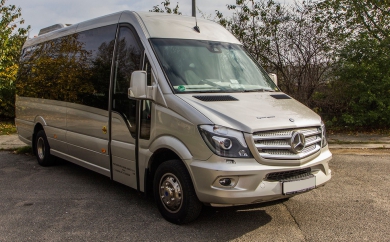 Minibus Class
Climate Control
Radio System
Microphone
Fridge
Navigation
Reclining seats
A Mini Bus is a good transport for groups of up to 16 people. The same perfect quality as bigger buses, our mini buses stand for comfortable travelling. All safety equipment is included (Speed Limiters, Safety Belts and ABS).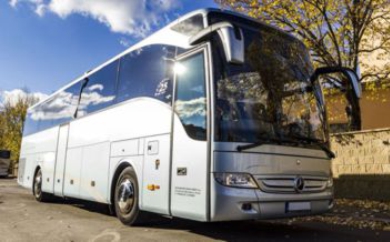 Bus Class
Climate Control
Radio System
Microphone
Fridge
WC
Reclining seats
Comfort Bus from BCS has all the comfort, that modern long-distance buses can offer, that allows passengers to enjoy relaxed travelling. Equipped with the entertainment systems. High priority is given to the safety equipment, including safety belts, speed limiters, ABS.
What Do We Offer in Frankfurt?
Event Transportation in Frankfurt
We can organize our buses in Frankfurt Germany based on your event schedule. Whether you need multiple coaches for multiple destinations or not, we've got you covered.
Frankfurt Tour Bus Charter
You can leverage our fully customized minibus rental and driver Frankfurt, which is tailored to your unique travel needs, to enjoy the best out of your tour.
Exhibition Transportation
When you hire bus in Frankfurt, you get drivers that are locals and understand the city. Our drivers know their way around to any location, exhibition, theater, and all the other places you may wish to visit.
Road Shows in Frankfurt
Our coaches can be of great importance to you as a Pop Star or Politician. We'll help you make the most of your road shows.
Church Group Tours
Do you have a church conference or any form of historical place visitation, for your members? We'll make your transition to and from the site smooth and comfortable with coach rental Frankfurt.
Frankfurt Airport Transfers
Bus companies in Frankfurt will carry your group from the airport to your point of destination and bring you back to the airport when you wish.
Sports Events in Frankfurt
Whether it's a football match, hockey game or any other sports event, we'll provide coach bus rental Frankfurt that'll take your team to anywhere they wish to go.
Conference transfers
If your team is organizing or attending a conference bus rental Frankfurt can offer prearranged transportation for all participating people groups.
Why Should I Hire Bus rental in Frankfurt from Bus-Service?
People from around the world enjoy visiting Frankfurt, Germany, to soak in its rich cultural life. Frankfurt is a place with rich social and cultural history.
If you are arranging travel for a tourist or business group in Germany, you will be well-served if you choose a professional bus charter company to handle your transportation plans.
Visitors of this beautiful city will enjoy seeing the sites from aboard of one of our comfortable charter buses. As one of the transportation leaders in Frankfurt, we offer excellent services for our clients.
With a sharp concept of what is expert tourist transportation, we implement high standard solutions for enterprise trips and FRA Airport transfers.
Bringing our customers from point A to point B just in time and in the safest way is our main priority. If you care for similar matters - we are offering to choose us.
All our drivers speak English and will be able to communicate with passengers if required. Our bus personal will happily make recommendations regarding local shopping and dining venues. We can arrange custom travel routs to ensure that your group will see many interesting sites and monuments in Frankfurt and it all will happen in great comfort.
Travel with the newest luxurious coaches, that a modern bus companies Frankfurt can offer. Frankfurt private bus rental for a corporate event and experience your luxury journey supervised by our support team.
Contact us now and get the best offer for bus charter in Frankfurt from the Bus-Service Company.
Give your team the treat they deserve with Bus-Service Coach and Minibus Hire in Frankfurt. Contact us now to get started.
What we care for is Safety, Comfort, Cleanness, Connectivity, Reliability, Flexibility.
Buses are equipped with bathrooms and washing facilities. Many of our vehicles also feature DVD players and entertainment screens so that the passengers can enjoy their time while traveling between locations. Also transports may be equipped with refrigerators so that you can keep cold beverages and snacks on hand.
We will respond to your requests 24/7 if you require any help.
Why Should You Visit Frankfurt?
"The Gateway to Europe" is the second name of Frankfurt, as it is one of the leading transportation centers of the EU. The huge FRA airport allows millions of travelers to move from the city to any other destination in Europe and abroad it.
Frankfurt is a charming mix of architecture, with advanced glass high-rises towering above classical church buildings. You'll notice plenty of tower cranes expanding their necks ever higher, signifying the city's continued evolution.
There are many places to see in Frankfurt. It has several notable yearly events deserving your attention, such as Oktoberfest, the annual Christmas market, and the Frankfurt Book Fair. Something exciting happening in Frankfurt at any given season of the year.
Frankfurt holidays will definitely be fantastic.
Also, there are constant attractions to maintain the city's visitor interest, too. Art lovers can visit Sachsenhausen, the area south of the river, where the city's "Museum Mile" is located. It's a "birthplace" of the German Film Museum, the Communication Museum, and Staedel Museum, and many others. You can purchase the MuseumSufer ticket if you plan to visit many of them, which includes access to museums for the two following days.
Whether it's an everyday German meal you're desiring or something more universal, Frankfurt's dining has it all. Only don't forget to always get a reservation, as the best tables tend to get booked in advance. Most restaurants, even tiny ones, have menus in English. But if they don't, the welcoming staff will undoubtedly translate for you.
Taste the best of Frankfurt, while we get you where you need to be with minibus rental for road trip Frankfurt.