How To Request Bus-Service Coach Hire in Baden-Baden, Germany?
Hiring a minibus or a coach at the Bus-Service is as easy as to say "One, Two, Three":
"One" - click the "Request Availability and Price" button below;
"Two" - fill the blank;
"Three" - we will send you all the information about the requested trip.
We offer a personal transportation manager for significant events. Make a request using your e-mail:
"One" - click on the e-mail address on the top of this page;
"Two" - choose your preferred mailing system and send us information about where, when and how big your group of people should be;
"Three" - we will send you the best offer we can provide.
Rent a bus using a mobile/cellphone:
"One" - click on that green chat icon in the lower-right corner of the page;
"Two" - choose if you want to call via phone or to send a message via WhatsApp;
"Three" - we will answer your message or call and talk through all the details with you.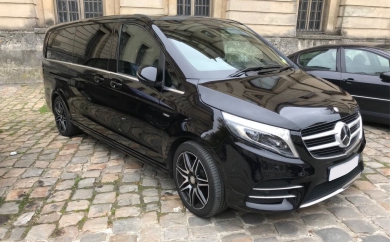 Van Class
Climate Control
Radio System
Navigation
A Van is an ideal vehicle for airport transfers, trade fair and event shuttle.
Made for small groups of people. We offer meet and great service for all of our airport transfer clients.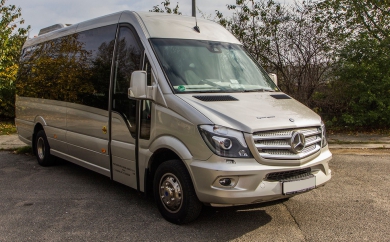 Minibus Class
Climate Control
Radio System
Microphone
Fridge
Navigation
Reclining seats
A Mini Bus is a good transport for groups of up to 16 people. The same perfect quality as bigger buses, our mini buses stand for comfortable travelling. All safety equipment is included (Speed Limiters, Safety Belts and ABS).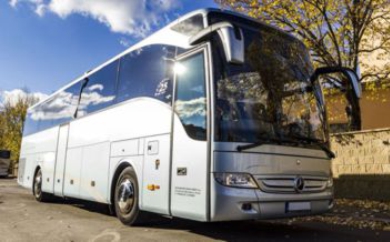 Bus Class
Climate Control
Radio System
Microphone
Fridge
WC
Reclining seats
Comfort Bus from BCS has all the comfort, that modern long-distance buses can offer, that allows passengers to enjoy relaxed travelling. Equipped with the entertainment systems. High priority is given to the safety equipment, including safety belts, speed limiters, ABS.
Event Transportation in Baden-Baden
We can organize our buses in Baden-Baden, Germany based on your event schedule. Whether you need multiple coaches for multiple destinations or not, we've got you covered.
Baden-Baden Tour Bus Charter
You can leverage our fully customized minibus rental and driver Baden-Baden services, which is tailored to your unique travel needs, to enjoy the best out of your tour.
Exhibition Transportation
When you hire bus in Baden-Baden, you get drivers that are locals and understand the city. Our drivers know their way around to any location, exhibition, theater, and all the other places you may wish to visit.
Road Shows Baden-Baden
Our bus charter in Baden-Baden can be of great importance to you as a Pop Star or Politician. We'll help you make the most of your road shows.
Church Group Tours
Do you have a church conference or any form of historical place visitation, for your members? We'll make your transition to and from the site smooth and comfortable with coach rental Baden-Baden.
Baden-Baden Airport Transfers
Our Bus companies in Baden-Baden will carry your group from the airport to your point of destination and bring you back to the airport when you wish.
Bus hire Baden-Baden for Sports Events
Whether it's a football match, hockey game or any other sports event, we'll provide ccoach bus rental Baden-Baden that'll take your team to anywhere they wish to go.
Conference transfers
If your team is organizing or attending a conference bus rental Baden-Baden can offer prearranged transportation for all participating people groups.
Why Should I Hire Bus rental in Baden-Baden with Bus-Service company?
A reliable, safe, and luxurious bus charter company offers the best services in Baden Baden such as minibus rental for road trip Baden-Baden.
We know what a professional trip organization means, we can find the highest standard possibilities for business trips and FKB Airport transfers. Our buses are clean, well maintained, and produce very weak carbon dioxide emissions to the atmosphere.
We take great care of our customers from the time when the trip starts and until the end of it when they have reached their destination. Our services combine classic VIP attitude with modern transportation technologies.
Get to know Baden Baden on the brand-new deluxe coaches provided by one of the best modern bus companies Baden-Baden in the European Union. Baden-Baden private bus rental will easily transport big groups of people for business occasions and huge international conferences.
Our 24/7 hotline is ready to answer any of your questions about the trip. Contact us immediately and get the best coach bus offer regarding coach hire Baden-Baden from Bus-Service Company.
Request availability and price below.
Give your team the treat they deserve with Bus-Service Coach and Minibus Hire in Baden Baden. Contact us now to get started.
Private charter bus in Baden Baden Baden Baden region is rich with plenty of beautiful natural destination which encourages tourists from all over the world. Baden Baden is located in southwest Germany and is famous as the nineteenth century's best Spa town. If you want to create unforgettable memories with your loved ones in the famous Lichtentaler Allee, the romantic and dreamy medieval castles in Ebersteinburg and Ho then you must plan to visit Baden Baden. These attractions ( Lying in the foothills of black forest city ) will leave their unique impression on their visitors.
Other places to see in Baden Baden are Friedrichsbad and Caracalla baths, Merkur Bergbahn also known as Merkur mountain Railway, Altes Schloss Hohenbaden, Museum Frieder Bura, The Kurgarten also famous as Spa garden, Geroldsau Waterfall, Trinkhalle known as Pump Room, The famous Opera House also known as Festspielhaus, Faberge Museum, Oldtown, Roman Bath Ruins, The historic Paradise Cascade and the Beautiful Brahms House.
Baden Baden is the best Christmas holiday destination. Visitors from all over the world visit the Christmas market in the pre-Christmas season to spend their holidays in Baden Baden. This market is situated near the Lichtentaler Allee. It is like a romantic fairy tale. From November to January the visitors start gathering at small decorated huts. There are many reputed restaurants on the streets of the Christmas market. People get entertained with musical nights in these decorated huts in the market. You will never forget your Christmas in Baden Baden.
Festival hall with 2000+ seats is one of the best and largest musical venues. Youngsters are the most critical audience having a good taste of classical music. There is a number of amazing things to do in Baden Baden.
The city is known as a world-renowned roman bath hub drawing celebrities and elite communities around the world to enjoy its healing effects. You must visit Baden Baden once in your life.
Have you decided to explore the place with your family? Are you looking to rent a bus? If yes, then you must plan your trip with BCS Travel company. We have a modern vehicle fleet consisting of brand new stereo systems, navigation systems and of course air conditioning. All our vehicles are well maintained and repaired periodically. Our well trained and professional drivers will make sure you'll arrive safely at the destination. Since the formation of our travel agency, We have an accident free record. We are well known for our reasonable prices, reliability, and safety.
If you are going in a large group of members like 20 or 30 persons, then our charter bus is the right option for you. We are here to help you find the right vehicle for your trip. Additional services are also available such as transportation for disabled people, a trailer for extra luggage or onboard restrooms.
Customized service: We will help you find and choose the best travel option for the number of seats you need. Whether it is for smaller group size, school trips, any company excursion, clubs, or large groups - Charter buses are the right option!
Versatile vehicles: We Have special deluxe buses with 50 to 80 seats and a length of 12-13 meters to provide you the supper comfort for your domestic and international trips.
We guarantee you the best onboard services including free WiFi, seats with extra legroom, cost-friendly snacks and drinks, plenty of plug sockets, toilets, and additional space for your bags.