How To Request Bus-Service Coach Hire in Barcelona?
Hiring a minibus or a coach at the BCS Travel is as easy as to say "One, Two, Three":
"One" - click the "Request Availability and Price" button below;
"Two" - fill the blank;
"Three" - we will send you all the information about the requested trip.
We offer a personal transportation manager for significant events. Make a request using your e-mail:
"One" - click on the e-mail address on the top of this page;
"Two" - choose your preferred mailing system and send us information about where, when and how big your group of people should be;
"Three" - we will send you the best offer we can provide.
Rent a bus using a mobile/cellphone:
"One" - click on that green chat icon in the lower-right corner of the page;
"Two" - choose if you want to call via phone or to send a message via WhatsApp;
"Three" - we will answer your message or call and talk through all the details with you.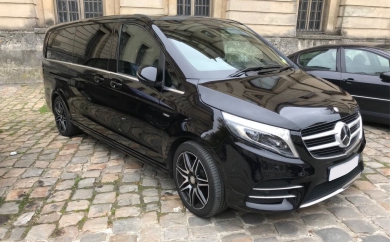 Van Class
Climate Control
Radio System
Navigation
A Van is an ideal vehicle for airport transfers, trade fair and event shuttle.
Made for small groups of people. We offer meet and great service for all of our airport transfer clients.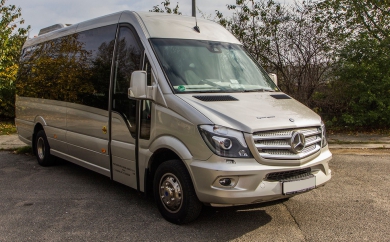 Minibus Class
Climate Control
Radio System
Microphone
Fridge
Navigation
Reclining seats
A Mini Bus is a good transport for groups of up to 16 people. The same perfect quality as bigger buses, our mini buses stand for comfortable travelling. All safety equipment is included (Speed Limiters, Safety Belts and ABS).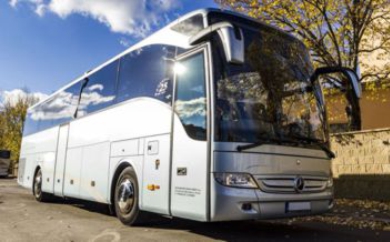 Bus Class
Climate Control
Radio System
Microphone
Fridge
WC
Reclining seats
Comfort Bus from BCS has all the comfort, that modern long-distance buses can offer, that allows passengers to enjoy relaxed travelling. Equipped with the entertainment systems. High priority is given to the safety equipment, including safety belts, speed limiters, ABS.
Event Transportation in Barcelona
We can organize our buses in Barcelona, Spain based on your event schedule. Whether you need multiple coaches for multiple destinations or not, we've got you covered.
Barcelona Tour Bus Charter
You can leverage our fully customized minibus rental and driver Barcelona services, which is tailored to your unique travel needs, to enjoy the best out of your tour.
Exhibition Transportation
When you hire bus in Barcelona, you get drivers that are locals and understand the city. Our drivers know their way around to any location, exhibition, theater, and all the other places you may wish to visit.
Road Shows in Barcelona
Our bus charter in Barcelona can be of great importance to you as a Pop Star or Politician. We'll help you make the most of your road shows.
Church Group Tours
Do you have a church conference or any form of historical place visitation, for your members? We'll make your transition to and from the site smooth and comfortable with coach rental Barcelona.
Barcelona Airport Transfers
Bus companies in Barcelona will carry your group from the airport to your point of destination and bring you back to the airport when you wish.
Bus hire Barcelona for Sports Events
Whether it's a football match, hockey game or any other sports event, we'll provide coach bus rental Barcelona that'll take your team to anywhere they wish to go.
Barcelona private bus rental for conference transfers
If your team is organizing or attending a conference bus rental Barcelona can offer prearranged transportation for all participating people groups.
Why Should I Hire Bus rental in Barcelona with Bus-Service company?
Bus-Service offers the best possible services in Barcelona such as minibus rental for road trip Barcelona.
With a definite vision of what is professional passenger transportation, we provide high standard solutions for business trips and BCN Airport transfers.
What we stand for is Cleanness, Safety, Comfort, Reliability, Connectivity, Flexibility.
Providing our customers with coaches to get from location A to location B in time and in the most secure way is our priority.
If you similar matters are vital for you - we are offering to choose us.
Travel with the freshest luxurious coaches, the best quality that keeps in step with the times bus companies Barcelona can provide.
Charter a bus for a business meet and experience your luxury journey managed by our support team.
We will respond to your requests 24/7 if you require any help.
Reach us immediately and receive the most suitable offer regarding coach hire Barcelona from the Bus-Service Company.
Request availability and cost below.
Give your team the treat they deserve with Bus-Service Coach and Minibus Hire in Barcelona. Contact us now to get started.
Barcelona, the capital of Catalonia, is a Mediterranean and cosmopolitan city with Roman remains, medieval districts and the most impressive samples of 20th century Modernism and vanguard. It is no surprise that symbolic buildings by the Catalan architects Antoni Gaudí and Lluís Doménech i Montaner have been proclaimed World Heritage Sites by UNESCO. The city's roots are Roman, and its rich past and commercial dynamics have made Barcelona a city of culture, which can be observed in the historic-artistic heritage and the promotion of the most innovative artistic trends. A broad cultural plan will take visitors to museums, exhibitions, many concerts, open-air sculptures, plays and dances.
Pop culture also has its displays in this city, which still preserves its most valued traditions, like the fiestas of La Mercè or the celebrations in the areas of Gràcia, Sants and Poblenou. These are all outstanding possibilities for getting to know the city's more celebratory side. Tradition and modernity can also be noticed in its innovative and creative gastronomy, based on fresh garden produce, fresh fish, a wide assortment of sausages and olive oil. Fabulous handmade cakes and pastries and sparkling wines are some of the other highlights in this short summary of Barcelona's gastronomic culture.
Walking around the streets of Barcelona will deliver surprises at every corner. Pedestrian streets in the old district, green areas, and a marvelous seafront with a variety of modern buildings are a picture of its multifaceted nature. Barcelona has intelligently succeeded in embracing its past without neglecting its dedication to the future. The city is provided with some excellent infrastructures which are in demand as venues for seminars, conferences and international events. Its outstanding transport links, the Mediterranean climate and the abundance of attractions for guests make Barcelona one of the world's leading business cities. Business parks and exposition and gathering centers receive a wide spectrum of initiatives.
Visitors attaining to Barcelona for entertainment or for business can also enjoy the city's Mediterranean appearance, which can so distinctly be seen on the Barcelona coast. The city also has pretty public beaches, aquatic resorts, and golf courses on the shore. Nature enthusiasts will not have to go far to examine the heights in the Cordillera Litoral range and the Catalan Pyrenees.