How To Request Bus-Service Coach Hire in Bordeaux?
Our company is offering an effortless and understandable way to rent a coach and organize your trip.
Three simple steps:
The first step - click the "Request Availability and Price" button below;
The second step - fill the straightforward request blank;
The third step - we will send you all the information about the requested trip.
Another easy three-step way to do it is to:
The first step - click on the e-mail address on the top of this page;
The second step - choose your preferred mailing system and send us information about where, when and in how big group of people you should be;
The third step - we will send you our offer.
As well you can:
The first step - click on the green chat icon in the lower-right corner of the page;
The second step - choose if you want to call via phone or to send a message via WhatsApp;
The third step - we will answer your message or call and talk all the details with you.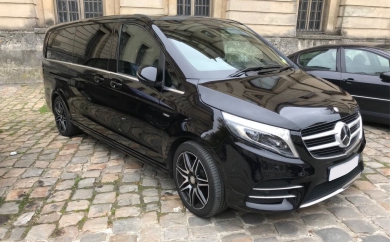 Van Class
Climate Control
Radio System
Navigation
A Van is an ideal vehicle for airport transfers, trade fair and event shuttle.
Made for small groups of people. We offer meet and great service for all of our airport transfer clients.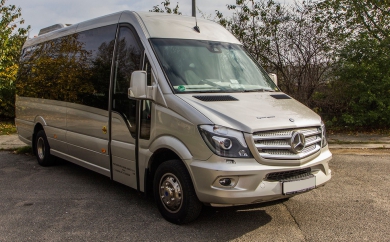 Minibus Class
Climate Control
Radio System
Microphone
Fridge
Navigation
Reclining seats
A Mini Bus is a good transport for groups of up to 16 people. The same perfect quality as bigger buses, our mini buses stand for comfortable travelling. All safety equipment is included (Speed Limiters, Safety Belts and ABS).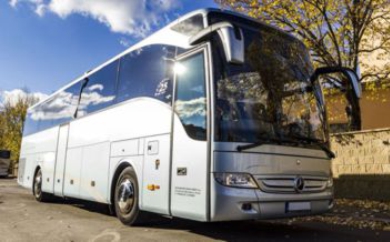 Bus Class
Climate Control
Radio System
Microphone
Fridge
WC
Reclining seats
Comfort Bus from BCS has all the comfort, that modern long-distance buses can offer, that allows passengers to enjoy relaxed travelling. Equipped with the entertainment systems. High priority is given to the safety equipment, including safety belts, speed limiters, ABS.
Event Transportation in Bordeaux
We can organize our buses in Bordeaux, France based on your event schedule. Whether you need multiple coaches for multiple destinations or not, we've got you covered.
Bordeaux Tour Bus Charter
You can leverage our fully customized minibus rental and driver Bordeaux services, which is tailored to your unique travel needs, to enjoy the best out of your tour.
Exhibition Transportation
When you hire bus in Bordeaux, you get drivers that are locals and understand the city. Our drivers know their way around to any location, exhibition, theater, and all the other places you may wish to visit.
Road Shows in Bordeaux
Our bus charter in Bordeaux can be of great importance to you as a Pop Star or Politician. We'll help you make the most of your road shows.
Church Group Tours
Do you have a church conference or any form of historical place visitation, for your members? We'll make your transition to and from the site smooth and comfortable with coach rental Bordeaux.
Bordeaux Airport Transfers
Bus companies in Bordeaux will carry your group from the airport to your point of destination and bring you back to the airport when you wish.
Bus hire Bordeaux for Sports Events
Whether it's a football match, hockey game or any other sports event, we'll provide coach bus rental Bordeaux that'll take your team to anywhere they wish to go.
Bordeaux private bus rental for conference transfers
If your team is organizing or attending a conference bus rental Bordeaux can offer prearranged transportation for all participating people groups.
Why Should I Hire Bus rental in Bordeaux with Bus-Service company?
Bus-Service the best bus charter company that you will find in Bordeaux such as minibus rental for road trip Bordeaux.
With great experience in professional passenger transportation, we are capable of providing high standard services for business trips and BOD Airport transfers.
When you choose us, you choose Reliability, Safety, Cleanness, Comfort, Connectivity, Flexibility.
Time is money, as people say.
We will get you where you need in time and in the safest way.
If you value your schedule, you've found the right service provider.
Have a journey with the most modern luxury coaches.
Only the best bus companies Bordeaux can offer VIP coaches for hire.
Hire a bus for a business gathering and experience your safe trip conducted by our crew.
If you require any additional information from us during the trip, we have a 24/7 hotline.
Reach us directly and secure the most suitable offer regarding coach hire Bordeaux from the Bus-Service Company.
Request availability and cost below.
Give your team the treat they deserve with Bus-Service Coach and Minibus Hire in Bordeaux. Contact us now to get started.
Places to see in Bordeaux, France
Sitting on the Garonne River in the country's southwest, Bordeaux is the sixth biggest city of France whose elegance and splendor has drawn myriads of crowds from around the globe for centuries. It is the center of wine-producing areas of the region, and its cityscape is full of breathtaking gothic architecture, incredible local cuisine, and quirky modern neighborhoods.
Take an unforgettable wine tour
Going on a wine tour is one of the best things to do in Bordeaux. They say a trip to Bordeaux without a bottle of Bordeaux is not a trip at all. There are hundreds, if not thousands, of wine bars in and around the city. Oenophiles and amateur tasters alike will find something grand to drink at the Maison du Vin Bordeaux, located just by the Grand Theatre. The institute offers a tasting course in French or English and the modern bar à vins, which displays a selection of 10 different wines every week.
Wonder at the Bordeaux Cathedral
The Cathédrale St. André manifests the best of Bordeaux and its atmosphere. A UNESCO World Heritage site, the Cathedral, and its 14th-century spires loom over the cityscape, dominating its architectural outlook. It is built in a Romanesque, Gothic style, decorated with large stained glasses and is home to the Marcadé collection, which consists of around forty illuminations, some paintings, vestments and silver objects.
Admire the architecture
The city boasts an incredible series of medieval architecture that is one of the main reasons for its listing as the world's largest urban World Heritage Site holding half the city in the UNESCO-listed embrace. Head to see the elegant symmetry of the Place de la Bourse. You can visit the former Chateau Trompette in the Places des Quinconces or admire the Grand Theatre in Cours du Chapeau. Along with these historical sites, contemporary architects also continue to trend for modern-style richness in the city centers.
Watch the Place de la Bourse in a mirror
Going over to the picturesque Place de la Bourse is a must whenever you visit Bordeaux as it is one of the top tourist attractions in the city. It is the perfect place to relax your mind after a long day of traveling and sightseeing. The palace is famous mainly for its shifting water fountains, known as the Water Mirror, which makes Place de la Bourse a UNESCO heritage site and the fountain garden as the largest reflecting pool in the world. If you stay long enough, you can see the water change its programed function of mirroring the Palace to sprinkling a misty, vapored fog and finally into a pool before going back to being a mirror again all in a matter of 20 minutes.
Go shopping on Rue St. Catherine
At almost 1200 meters long, the Rue Saint Catherine is Europe's longest pedestrian shopping street famous for its dozens of cafes and shops that line along it elegantly. There are countless brands on display in hundreds of shops to choose from. Even if you don't plan to go on a shopping spree, it's just great to wander around and watch the people go about their business.