How to Rent a Coach from BCS Travel in Brussels?
Our company is offering an effortless and understandable way to rent a coach and organize your trip. Three simple steps:
The first step - click the "Request Availability and Price"

button below;
The second step - fill the straightforward request blank;
The third step - we will send you all the information about the requested trip.
Another easy three-step way to do it is to:
The first step - click on the e-mail address on the top of this page;
The second step - choose your preferred mailing system and send us information about where, when and in how big group of people you should be;
The third step - we will send you our offer.
As well you can:
The first step - click on the green chat icon in the lower-right corner of the page;
The second step - choose if you want to call via phone or to send a message via WhatsApp;
The third step - we will answer your message or call and talk all the details with you.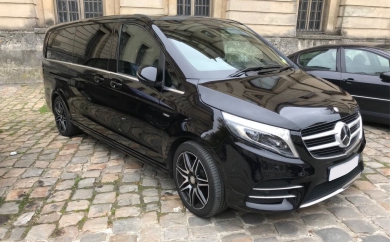 Van Class
Climate Control
Radio System
Navigation
A Van is an ideal vehicle for airport transfers, trade fair and event shuttle.
Made for small groups of people. We offer meet and great service for all of our airport transfer clients.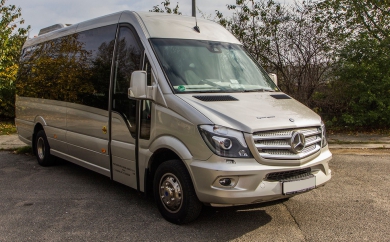 Minibus Class
Climate Control
Radio System
Microphone
Fridge
Navigation
Reclining seats
A Mini Bus is a good transport for groups of up to 16 people. The same perfect quality as bigger buses, our mini buses stand for comfortable travelling. All safety equipment is included (Speed Limiters, Safety Belts and ABS).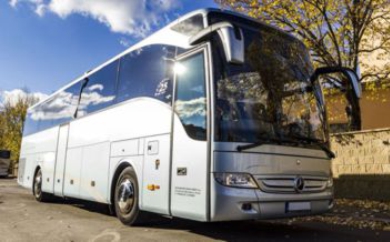 Bus Class
Climate Control
Radio System
Microphone
Fridge
WC
Reclining seats
Comfort Bus from BCS has all the comfort, that modern long-distance buses can offer, that allows passengers to enjoy relaxed travelling. Equipped with the entertainment systems. High priority is given to the safety equipment, including safety belts, speed limiters, ABS.
Event Transportation
We can organize our coaches based on your event schedule. Whether you need multiple coaches for multiple destinations or not, we've got you covered.
Tour Bus Charter
You can leverage our fully customized coach rental, which is tailored to your unique travel needs, to enjoy the best out of your tour.
Exhibition Transportation
When you hire our coach, you get drivers that are locals and understand the city. Our drivers know their way around to any location, exhibition, theater, and all the other places you may wish to visit.
Road Shows
Our coaches can be of great importance to you as a Pop Star or Politician. We'll help you make the most of your road shows.
Church Group Tours
Do you have a church conference or any form of historical place visitation, for your members? We'll make your transition to and from the site smooth and comfortable.
Airport Transfers
Our coach will carry your group from the airport to your point of destination and bring you back to the airport when you wish.
Sports Events
Whether it's a football match, hockey game or any other sports event, we'll provide coaches for hire that'll take your team to anywhere they wish to go.
Conference transfers
If your team is organizing or attending a conference we can offer prearranged transportation for all participating people groups.
Why Should I Hire a Coach from The BCS Travel?
BCS Travel offers the best services that are possible in Brussels.
With a sharp concept of what is expert tourist transportation, we implement high standard solutions for enterprise trips and BRU Airport transfers.
What we take in mind is Safety, Comfort, Cleanness, Connectivity, Reliability, Flexibility.
Taking our customers from location A to location B in time and in a secure way is our priority.
If you care for similar matters - we are offering to choose us.
Visit Brussels on the brand-new deluxe coaches that only the best modern coach hire companies can provide.
Rent a bus for a corporate event and enjoy your luxury trip guided by our support team.
We will respond to your requests 24/7 if you require any help.
Contact us now and get the best possible offer for Brussels coach trips from the BCS Travel Company.
Request availability and price below.
Give your team the treat they deserve with BCS Travel Services Coach and Minibus Hire in Brussels. Contact us now to get started.
Brussels is the political center of the European Union. And it is much more than that. Check the list of places to visit.
As the city of Paris loves the Eiffel Tower, Brussels is fond of The Atomium. World Expo of 1958 left behind the massive structure glittering in the sun. Sounds intriguing? Then travel up into the Heysel area of Brussels to examine the Atomium which produces a magnificent panorama of the city as well as art and science expositions and a restaurant in its nine spheres.
Mini-Europe Brussels is a thematic park with miniatures of the most famous buildings, places, and landscape of Europe. It is positioned next to the Atomium in Brupark in Heysel district. It is an excellent opportunity for families to have a beautiful day out with kids. The miniatures are about twenty-five times tinier than the life-size versions, some of the most well-known introduce the Eiffel Tower, the Leaning Tower of Pisa, Mount Vesuvius and the Grand Place.
The Autoworld Brussels is a museum of old vehicles dating back to the late 1890s when the earliest automobiles went onto the roads. Located at the Parc du Cinquantenaire,
this warehouse contains over 400 cars and stocks mostly European or U.S. original models.

It's a fabulous tour back into history for both automobile buffs and families.

Examining historic trains live is absolutely worth it. The Brussels Trainworld has the earliest locomotive on the continent. But multiple other beautiful items housed in a historic train station. Get there by our buses and enjoy it.
A skillfully sculpted town plaza was made over centuries to become the symbol of Brussels history. Practically all of the houses have a historical importance, and the Hotel de Ville (Town Hall) is still in use now-days. Positioned just down from Brussels Centrale, this historical marketplace is a must-see.
Not far away from the Grand Place, stands the Peeing Boy or Manneken Pis - the popular miniature statue. Citizens celebrate many festivities at this bronze fountain, and there are over seven hundred outfits for this little guy. Brusselans clothe him while celebrating many events of the year.