How To Request Bus-Service Coach Hire in Budapest?
Coach hiring "ABC." No complications - follow the instruction and get things done:
"A" - look for the "Request Availability and Price" button below and click it;
"B" - take a minute to fill the blank;
"C" - we will review your request ASAP and will send you our offer and information about the best transportation opportunities.
Request a trip from our bus companies Budapest using your e-mail, simple:
"A" - click on the e-mail address at the top of this page;
"B" - use you your favorite mailing system to send us your questions about coach availability and prices;
"C" - relax and wait while we are preparing for you the best offer on the market.
Make a request on the go with your mobile/cellphone:
"A" - locate the chat icon in the lower-right corner of the page;
"B" - click on it and choose if you want to call via phone or to send a message via WhatsApp. Talk to us;
"C" - Get our great coach offer.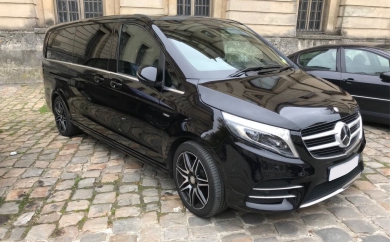 Van Class
Climate Control
Radio System
Navigation
A Van is an ideal vehicle for airport transfers, trade fair and event shuttle.
Made for small groups of people. We offer meet and great service for all of our airport transfer clients.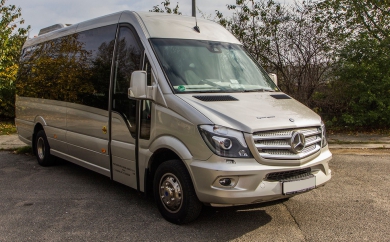 Minibus Class
Climate Control
Radio System
Microphone
Fridge
Navigation
Reclining seats
A Mini Bus is a good transport for groups of up to 16 people. The same perfect quality as bigger buses, our mini buses stand for comfortable travelling. All safety equipment is included (Speed Limiters, Safety Belts and ABS).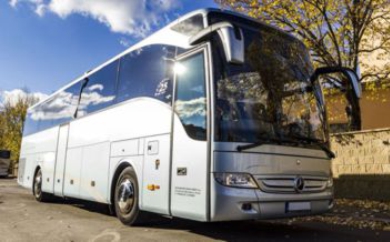 Bus Class
Climate Control
Radio System
Microphone
Fridge
WC
Reclining seats
Comfort Bus from BCS has all the comfort, that modern long-distance buses can offer, that allows passengers to enjoy relaxed travelling. Equipped with the entertainment systems. High priority is given to the safety equipment, including safety belts, speed limiters, ABS.
Event Transportation in Budapest
We can organize our buses in Budapest, Hungary based on your event schedule. Whether you need multiple coaches for multiple destinations or not, we've got you covered.
Budapest Tour Bus Charter
You can leverage our fully customized minibus rental and driver Budapest services, which is tailored to your unique travel needs, to enjoy the best out of your tour.
Exhibition Transportation
When you hire bus in Budapest, you get drivers that are locals and understand the city. Our drivers know their way around to any location, exhibition, theater, and all the other places you may wish to visit.
Road Shows in Budapest
Our bus charter in Budapest can be of great importance to you as a Pop Star or Politician. We'll help you make the most of your road shows.
Church Group Tours
Do you have a church conference or any form of historical place visitation, for your members? We'll make your transition to and from the site smooth and comfortable with coach rental Budapest.
Budapest Airport Transfers
Bus companies in Budapest will carry your group from the airport to your point of destination and bring you back to the airport when you wish.
Bus hire Budapest for Sports Events
Whether it's a football match, hockey game or any other sports event, we'll provide coach bus rental Budapest that'll take your team to anywhere they wish to go.
Budapest private bus rental for conference transfers
If your team is organizing or attending a conference bus rental Budapest can offer prearranged transportation for all participating people groups.
Why Should I Hire Bus rental in Budapest with Bus-Service company?
The luxurious, reliable, and safe bus charter company offers excellent services in Budapest such as minibus rental for road trip Budapest.
We know what an expert trip organization implies, we can provide the highest standard opportunities for business trips and BUD Airport transfers.
Our vehicles are fresh, well kept, and allow very low carbon dioxide emissions to the environment. We take great care of our clients from the time when their trip starts and until it is finished when they have reached their target location.
Our services merge the classic VIP approach with advanced transportation technologies. Get to know Budapest on the brand-new luxurious vehicles provided by one of the most reliable modern coach hire businesses in the European Union.
We will efficiently move large groups of people for enterprise occasions and huge worldwide conferences.
Our 24/7 hotline is available to reply to any of your inquiries about the trip.
Contact us now and get the best coach bus offer regarding coach hire Budapest from the Bus-Service Company.
Request availability and price below.
Give your team the treat they deserve with Bus-Service Coach and Minibus Hire in Budapest. Contact us now to get started.
The City of Budapest
Amazing architectural designs, a great history, and cheap drinks, Budapest has it all. As one of the most vibrant capital cities, Budapest is known as the Paris of the East. The city is simply breathtaking, and it's easy to understand why you chose to visit Budapest.
With lots of things to do in Budapest, I'm sure you will be begging for more time. But with this article, I'll ensure you get the best of Budapest in your short holiday. That said, let's take a look at some of the things to do in Budapest:
Top 5 Fun Things to do in Budapest
Gellert Baths
You are definitely not experiencing one of the best Budapest holidays if you've not had a swim at the Gellert Bath and Spa Centre. This amazing spot has an open-air pool with a finish spa and a number of saunas. That's the ultimate water world coupled up with the perfect setting for the best relaxation spot.
Spa treatment and massages are also available at an extra fee. This amazing architectural design was built in 1912 in a traditional fashion known as Art Nouveau design. However, the complex experienced serious damages, especially during WW2. Thankfully, the spa was later brought back to life in 2008 with a series of renovations. The wonderful baths are open throughout the week for any interested parties.
Margaret Island
If you are looking for fun things to do in Budapest, then you should probably head down to the Margaret Island. This is an island that sits at the center of Danube, spreading all the way to 2.5km in length. From a running track, medieval ruins to an aviary, the island has several places you could go for sight-seeing. This is one of the best places to see in Budapest.
Faust Wine Cellars
Do you love sampling fine wine? Then pack your bags and visit Budapest's finest wine cellars, Faust Wine Cellars. This place is located underneath Buda Castle and is the origin of the Hungarian wine regions. At the Faust Wine Cellar, you will get the chance to sample some of the finest Hungarian fruit Palinka.
Best dish when visiting Budapest — Langos
Don't just visit Budapest to sight-see; you can also take this opportunity to taste the famous Langos. This is a traditional Hungarian dish that's basically deep-fried bread with Bolognese sauce and cream cheese with salt. The best place you can enjoy this snack is buying from a side-street vendor. If you have a soft spot for cheese and fried bread, then I'm sure one of these snacks will not be enough. You will find yourself going back for round two.
Festivals when you visit Budapest
If you are planning to spend your celebrations in a different country, then Budapest is the right place. The city hosts a range of festivals throughout the year. You can spend your Christmas in Budapest. More to that, there are other festivities that you can also enjoy in the city. From celebrating foods to cultural festivals and film festivals, there's always something for everyone when you visit Budapest.
Before you go…
Taking a moment off your regular routines and going for a vacation is always a good idea. And the best way to enjoy your vacation is finding the right place. That said, you can never go wrong when you decide to visit the city of Budapest. You will easily fall in love with the place.