How To Request a Bus From BCS Travel in Chicago, United States?
Coach hiring "ABC." No complications - follow the instruction and get things done:
"A" - look for the "Request Availability and Price" button below and click it;
"B" - take a minute to fill the blank;
"C" - we will review your request ASAP and will send you our offer and information about the best transportation opportunities.
Request a trip using your e-mail, simple:
"A" - click on the e-mail address at the top of this page;
"B" - use you your favorite mailing system to send us your questions about coach availability and prices;
"C" - relax and wait while we are preparing for you the best offer on the market.
Make a request on the go with your mobile/cellphone:
"A" - locate the chat icon in the lower-right corner of the page;
"B" - click on it and choose if you want to call via phone or to send a message via WhatsApp. Talk to us;
"C" - Get our great coach offer.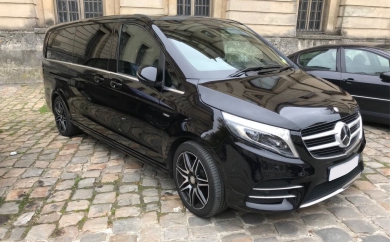 Van Class
Climate Control
Radio System
Navigation
A Van is an ideal vehicle for airport transfers, trade fair and event shuttle.
Made for small groups of people. We offer meet and great service for all of our airport transfer clients.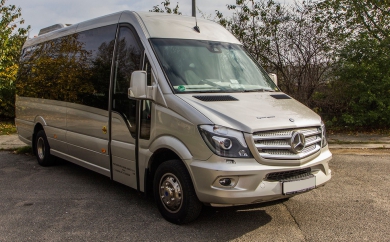 Minibus Class
Climate Control
Radio System
Microphone
Fridge
Navigation
Reclining seats
A Mini Bus is a good transport for groups of up to 16 people. The same perfect quality as bigger buses, our mini buses stand for comfortable travelling. All safety equipment is included (Speed Limiters, Safety Belts and ABS).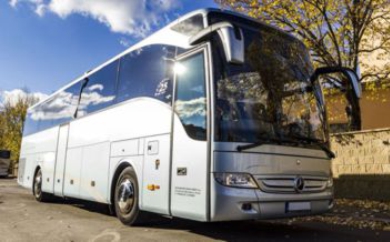 Bus Class
Climate Control
Radio System
Microphone
Fridge
WC
Reclining seats
Comfort Bus from BCS has all the comfort, that modern long-distance buses can offer, that allows passengers to enjoy relaxed travelling. Equipped with the entertainment systems. High priority is given to the safety equipment, including safety belts, speed limiters, ABS.
Event Transportation
We can organize our coaches based on your event schedule. Whether you need multiple coaches for multiple destinations or not, we've got you covered.
Tour Bus Charter
You can leverage our fully customized coach rental, which is tailored to your unique travel needs, to enjoy the best out of your tour.
Exhibition Transportation
When you hire our coach, you get drivers that are locals and understand the city. Our drivers know their way around to any location, exhibition, theater, and all the other places you may wish to visit.
Road Shows
Our coaches can be of great importance to you as a Pop Star or Politician. We'll help you make the most of your road shows.
Church Group Tours
Do you have a church conference or any form of historical place visitation, for your members? We'll make your transition to and from the site smooth and comfortable.
Airport Transfers
Our coach will carry your group from the airport to your point of destination and bring you back to the airport when you wish.
Sports Events
Whether it's a football match, hockey game or any other sports event, we'll provide coaches for hire that'll take your team to anywhere they wish to go.
Conference transfers
If your team is organizing or attending a conference we can offer prearranged transportation for all participating people groups.
Why Should I Hire a Coach from The BCS Travel?
Our travel company offers the best services that you will find in Chicago.
We are experts in passenger transportation; we provide excellent solutions for business trips and ORD Airport transfers.
What we take care of is Comfort, Safety, Reliability, Cleanness.
You don't need to worry about a thing.
From point A to point B of your journey, you will be safe and well served.
Have a journey on the newest luxurious coaches, well maintained and clean.
Rent a bus for a business event and have your unique trip optimized by our support team.
We will answer your calls 24/7 if you need any assistance.
Contact us now, and the best offer from the BCS Travel Company is yours.
Request availability and price below.
Give your team the treat they deserve with BCS Travel Services Coach and Minibus Hire in Chicago. Contact us now to get started.
Travel Chicago
Chicago is the 3rd largest city in the United States, with a population of almost three million. It is located on Lake Michigan in Illinois. It is famous for texture, museums, Chicago style pizza, and the Sears Tower, Steely skyscrapers, top chefs, rocking festivals this city was made official in 1837.
Chicago is also known as the center of international trade, transport, telecommunication, and commerce. It is also called a crime capital due to its international reputation. It is a safe city to travel as Chicago is the best place for tourism as about 55 million visitors were recorded in 2017.
Chicago is the best place to visit as it will give you many ideas to make your Chicago holidays more pleasant and memorable.
Best Things To Do In Chicago
It does not matter the reasons for your visit to Chicago, but it is the best place to visit with family and spend your weekend. I am going to tell you the 10 best things to do in Chicago during your Chicago Tour.
Art Institute of Chicago
The Chicago city is famous for the Art Institute of Chicago, which is the second-largest museum in the United States. There are many collection's paintings in that museum, so it is the best place to see in Chicago where you can visit with your family as your children will be very happy to see these paintings.
Wrigley Field
It is also the most beautiful place to visit in Chicago as it was built in 1914 and it is one of the oldest parks in the USA. People like to visit this park due to participate in free events in the grassy plaza of the park and watch the movie on the Jumbo Screen.
Museum of Science & Industry
The Museum of Science & industry is one of the best places to see in Chicago as you can find the palace of fine arts in the museum and it will be the best way for your children to enjoy and get the knowledge.
Stony Island Arts Bank
It is a hybrid gallery, and home of rebuilding achieves. If you visit Chicago, then it will be the best place for you to come here to read thousands of books that were donated by the Johnson Publishing company. Also, you can see the sixty thousand slides of arts and history of architecture.
Millennium Park
One of the best places in Chicago is the Millennium Part as it contains the collections of public arts. If you come here, then don't forget to see the crown fountain, wrigley square and Harris theatre.
River and Lake Cruises
You can enjoy your Chicago tour by sitting along the Chicago River, and it will be a great option for you to enjoy. The tour of lake cruises will help you to explore Chicago. It will guide you to see the views of many landmarks with expert guide commentary.
Food Tours
You can enjoy your tour with bold flavors as it is the best food for the people of America and you can enjoy the deep-dish pizza, sandwiches, and beer as well as other local food. You can get the idea of these local dishes from a guide in Chicago.
Riverwalk
If you visit Chicago, then one of the best things to do will be a river walk. It will be a 1.25-miles to go, and you can explore the city of Chicago on foot with a local guide. Capture photos of buildings and public art. Hire a water taxi or cycle boat to enjoy the river. You will see some dramatic scenery, cafes, and bars grill also.
Lincoln Park Zoo
Lincoln Park Zoo is among the best places to see in Chicago as you can get admission free and see more than 1100 animals. The children will enjoy seeing the African penguin and Polar bear here in Lincoln Park Zoo. It is an old zoo as it was constructed in 1912.
Christmas Tree Lightning Ceremony
You can see the Christmas tree lighting ceremony every year in Chicago as trees are decorated in the city with 48375 colored lights. If you are looking to celebrate Christmas in Chicago, then it will be the best place to visit and enjoy the ceremony.