How To Request Bus-Service Coach Hire in Dresden?
Our company is offering an effortless and understandable way to rent a coach and organize your trip.
Three simple steps:
The first step - click the "Request Availability and Price" button below;
The second step - fill the straightforward request blank;
The third step - we will send you all the information about the requested trip.
Another easy three-step way to do it is to:
The first step - click on the e-mail address on the top of this page;
The second step - choose your preferred mailing system and send us information about where, when and in how big group of people you should be;
The third step - we will send you our offer.
As well you can:
The first step - click on the green chat icon in the lower-right corner of the page;
The second step - choose if you want to call via phone or to send a message via WhatsApp;
The third step - we will answer your message or call and talk all the details with you.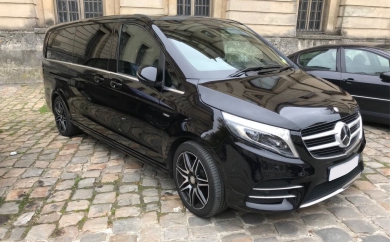 Van Class
Climate Control
Radio System
Navigation
A Van is an ideal vehicle for airport transfers, trade fair and event shuttle.
Made for small groups of people. We offer meet and great service for all of our airport transfer clients.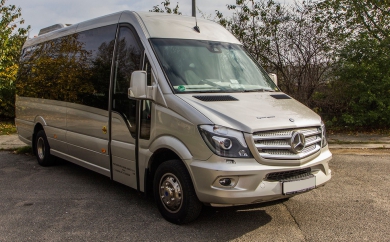 Minibus Class
Climate Control
Radio System
Microphone
Fridge
Navigation
Reclining seats
A Mini Bus is a good transport for groups of up to 16 people. The same perfect quality as bigger buses, our mini buses stand for comfortable travelling. All safety equipment is included (Speed Limiters, Safety Belts and ABS).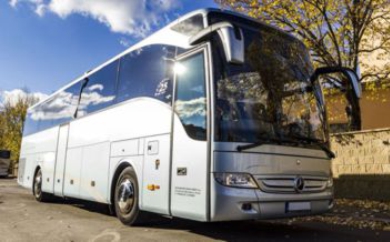 Bus Class
Climate Control
Radio System
Microphone
Fridge
WC
Reclining seats
Comfort Bus from BCS has all the comfort, that modern long-distance buses can offer, that allows passengers to enjoy relaxed travelling. Equipped with the entertainment systems. High priority is given to the safety equipment, including safety belts, speed limiters, ABS.
Event Transportation in Dresden
We can organize our buses in Dresden, Germany based on your event schedule. Whether you need multiple coaches for multiple destinations or not, we've got you covered.
Dresden Tour Bus Charter
You can leverage our fully customized minibus rental and driver Dresden services, which is tailored to your unique travel needs, to enjoy the best out of your tour.
Exhibition Transportation
When you hire bus in Dresden, you get drivers that are locals and understand the city. Our drivers know their way around to any location, exhibition, theater, and all the other places you may wish to visit.
Road Shows in Dresden
Our bus charter in Dresden can be of great importance to you as a Pop Star or Politician. We'll help you make the most of your road shows.
Church Group Tours
Do you have a church conference or any form of historical place visitation, for your members? We'll make your transition to and from the site smooth and comfortable with coach rental Dresden.
Dresden Airport Transfers
Bus companies in Dresden will carry your group from the airport to your point of destination and bring you back to the airport when you wish.
Bus hire Dresden for Sports Events
Whether it's a football match, hockey game or any other sports event, we'll provide coach bus rental Dresden that'll take your team to anywhere they wish to go.
Dresden private bus rental for conference transfers
If your team is organizing or attending a conference bus rental Dresden can offer prearranged transportation for all participating people groups.
Why Should I Hire Bus rental in Dresden with Bus-Service company?
A safe, reliable, and comfortable bus charter company offers the best services that are possible in Dresden such as minibus rental for road trip Dresden.
We know what a professional trip organization means, we can find the highest standard options for business trips and DRS Airport transfers.
Our buses are clean, well maintained, and produce very low carbon dioxide emissions to the atmosphere.
We take good care of our customers from the beginning of the trip until they have riched their destination.
Our services combine classic VIP attitude with modern transportation technologies.
Visit Dresden on the brand-new deluxe coaches provided by one of the best modern bus companies Dresden in Europe.
We will gladly transport big groups of people for corporate occasions and huge conferences.
Our 24/7 hotline is ready to react fast if you require any help.
Contact us immediately and get the best possible offer regarding coach hire Dresden from the Bus-Service Company.
Request availability and price below.
Give your team the treat they deserve with Bus-Service Coach and Minibus Hire in Dresden. Contact us now to get started.
Travel in Dresden: The Best Things to Do
Dresden, a magnificent city of Baroque wonders, blended in incredible modern ingenuity, was resurrected back from the ashes after the intense World War bombings that reduced the historic place to ruins. Stretched effortlessly along the banks of the river Elbe, the classic architecture and majestic art museums continue to mesmerize people visiting Dresden.
Explore the Zwinger Palace
The Zwinger is an exemplary structure and one of Germany's most glorious landmarks. Its ornate portals and orangeries lead to some of the most excellent fountain-embellished enclosures, galleries, classic statues and gardens that unfold into a palatial complex of courtyards. It also houses three great German art museums in its pavilions. You can gaze at some of the world's most astounding collections of Renaissance art in these galleries. The Zwinger truly is an incarnation of German excellence and one of the best places to see in Dresden.
Frauenkirche
This majestic Baroque edifice is the most beautiful rendition of Dresden's cityscape, crowned by one of the biggest church domes in Europe. Frauenkirche presents a medley of domes, cupolas, murals, and an unforgettable contemporary blend of classical artwork. It is located right amid other remarkable Baroque structures in the Neumarkt square.
The interior is uniquely incredible with colors flickering in a radiant glow, and the oak doors carved deeply in detail. The church also has a viewing platform atop its tower, which is accessible by a flight of narrow, steep stairs and a strenuous climb. Nevertheless, the breathtaking view of Dresden and the river Elbe entwining through it compensate for the difficulty of getting there fully.
Holidays in Dresden
If you plan on traveling around Christmas in Dresden, then seeing the stunning Christmas markets that sprawl across the city center is a must. Stalls and booths bloom out in the streets, selling delicate ornaments and other Holiday souvenirs. You can stroll past them in the evenings and browse through the numerous intricacies at the display, stare at the splendid decorating lights, all while sipping on the local mulled wine.
Cruise along the Elbe
Riverside cruise along the Elbe presents a unique opportunity to see Dresden from a different perspective. The whole cruise lasts around 1.5 to 2 hours and takes you past all the significant landmarks while you learn about the eventful history of the town and enjoy the local cuisine on board. The cruise offers panoramic views of Dresden Valley's beautiful landscape and takes you past the three beautiful castles dotted along the riverbank.
Roam around Altstadt, the Old Town
Most of the historical sites in Dresden; like the Zwinger Palace, Residenzschloss and Frauenkirche, are situated in the city's old town and had to be rebuilt and restored after the controversial Allied bombing during the last part of the Second World War turned the whole area into a flat ground.
It took decades to build Altstadt back to its former glory, and the results were amazing. The Neumarkt is located at the core of Dresden's Old Town around which the Frauenkirche stands gloriously. You can roam around the Old Town in a few hours of walking, hiking up towers, gazing upon church interiors and entering a museum or an art gallery – it's all up to you.