How To Request Bus-Service Coach Hire in Dusseldorf?
Coach hiring "ABC". No complications - follow the instruction and get things done:
"A" - look for the "Request Availability and Price" button below and click it;
"B" - take a minute to fill the blank;
"C" - we will review your request ASAP and will send you our offer and information about the best transportation opportunities.
Request a trip using your e-mail, simple:
"A" - click on the e-mail address at the top of this page;
"B" - use you your favorite mailing system to send us your questions about coach availability and prices;
"C" - relax and wait while we are preparing for you the best offer on the market.
Make a request on the go with your mobile/cellphone:
"A" - locate the chat icon in the lower-right corner of the page;
"B" - click on it and choose if you want to call via phone or to send a message via WhatsApp. Talk to us;
"C" - Get our great coach offer.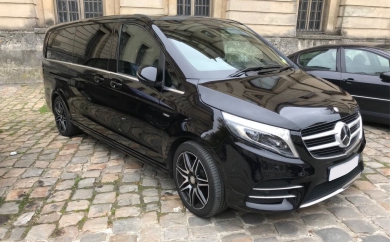 Van Class
Climate Control
Radio System
Navigation
A Van is an ideal vehicle for airport transfers, trade fair and event shuttle.
Made for small groups of people. We offer meet and great service for all of our airport transfer clients.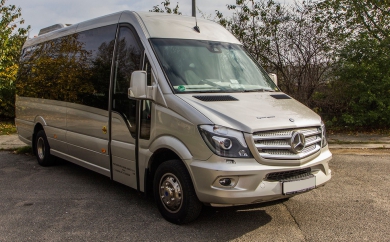 Minibus Class
Climate Control
Radio System
Microphone
Fridge
Navigation
Reclining seats
A Mini Bus is a good transport for groups of up to 16 people. The same perfect quality as bigger buses, our mini buses stand for comfortable travelling. All safety equipment is included (Speed Limiters, Safety Belts and ABS).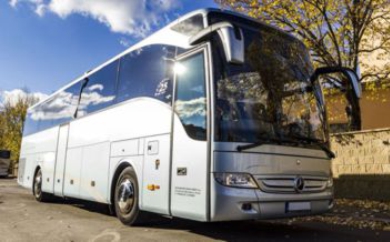 Bus Class
Climate Control
Radio System
Microphone
Fridge
WC
Reclining seats
Comfort Bus from BCS has all the comfort, that modern long-distance buses can offer, that allows passengers to enjoy relaxed travelling. Equipped with the entertainment systems. High priority is given to the safety equipment, including safety belts, speed limiters, ABS.
Event Transportation in Dusseldorf
We can organize our buses in Dusseldorf, Germany based on your event schedule. Whether you need multiple coaches for multiple destinations or not, we've got you covered.
Dusseldorf Tour Bus Charter
You can leverage our fully customized minibus rental and driver Dusseldorf services, which is tailored to your unique travel needs, to enjoy the best out of your tour.
Exhibition Transportation
When you hire bus in Dusseldorf, you get drivers that are locals and understand the city. Our drivers know their way around to any location, exhibition, theater, and all the other places you may wish to visit.
Road Shows in Dusseldorf
Our bus charter in Dusseldorf can be of great importance to you as a Pop Star or Politician. We'll help you make the most of your road shows.
Church Group Tours
Do you have a church conference or any form of historical place visitation, for your members? We'll make your transition to and from the site smooth and comfortable with coach rental Dusseldorf.
Dusseldorf Airport Transfers
Bus companies in Dusseldorf will carry your group from the airport to your point of destination and bring you back to the airport when you wish.
Bus hire Dusseldorf for Sports Events
Whether it's a football match, hockey game or any other sports event, we'll provide coach bus rental Dusseldorf that'll take your team to anywhere they wish to go.
Dusseldorf private bus rental for conference transfers
If your team is organizing or attending a conference bus rental Dusseldorf can offer prearranged transportation for all participating people groups.
Why Should I Hire Bus rental in Dusseldorf with Bus-Service company?
As one of the transportation leaders in Dusseldorf, we offer excellent services for our clients such as minibus rental for road trip Dusseldorf.
With a clear knowledge of what is a professional trip organization, we can find the highest standard options for business trips and DUS Airport transfers.
What we stand for is Comfort, Connectivity, Safety, Cleanness, Reliability, Flexibility.
Taking our customers from location A to location B in time and in a secure way is our priority.
If you care for similar matters - we are offering to choose us.
Visit Dusseldorf on the brand-new elegant coaches that only the fittest modern bus companies Dusseldorf can provide.
Rent a bus for a corporate meet and relish your luxury trip led by our support team.
We will reply to your calls 24/7 if you need any assistance.
Contact us now and get the best offer regarding coach hire Dusseldorf from the Bus-Service Company. Request availability and cost below.
Give your team the treat they deserve with Bus-Service Coach and Minibus Hire in Dusseldorf. Contact us now to get started.
Dusseldorf is a large industrial, commercial and historical center, which received the status of a city in 1288. Today it is the capital of the federal state of North Rhine-Westphalia, located in the west of the country at the confluence of the Rhine and Dussel rivers.
The heart of the city is Altstad (literally "old city"). It has been preserved and fascinates tourists with its wonderful treasures: The Old Town Hall, St. Lambertus Church, The Market Square and The Schlossturm castle tower. The tower is the only thing left of the ancient (13th century) castle, which burned countless times. After the last fire in the mid-19th century, it was decided not to restore the castle, but to establish a fire service in Düsseldorf.
Nowadays there is a shipping museum in the tower, and a nice restaurant on the top floor. Since we are talking about the food we have to mention beer. Düsseldorf is the world capital of making and consuming dark beer altbier (also known as German "old beer"), which for many centuries has been competing for the minds and stomachs of Germans with Cologne Kölsch. Altstad district is called the "largest bar in the world". On an area of ​​0.5 square kilometers, there are more than 260 bars, restaurants and pubs.
The modern part of the city is by no means less interesting. Here rises the Rhine Tower, which has become a real symbol of the city. It may not be the highest television tower in the world (240 meters), but it is very beautiful and photogenic. A revolving restaurant can be found upstairs, from where you can admire the panorama of the city, the futuristic houses of the Medien Hafen district, the television building and the Landtag. Many nightclubs are not far off and hectic life is in full swing in this part of the city.
Architecture and art lovers should definitely see the St. Lambertus Basilica, built in its modern form at the end of the XIV century, although the first church on this site was built 700 years before. This is the oldest building in the city, preserved to this day and you can safely devote a couple of hours to it, there is a real abundance of cultural and religious masterpieces. Nearby, there is the city hall, The Düsseldorf Academy of Arts, The Heinrich Heine Institute, The Cinema Museum, The Museum of Modern Art, The Museum of Ceramics of all times and cultures, The Art Museum, and The Puppet Theater.
Dusseldorf is also famous for its shopping places. The center of shopping in Dusseldorf is the Könings Alley, or as the locals call it - Kö. People from all over Germany come here for "shopping in Kö". In the middle of the boulevard there is a ditch with water, magnificent statues of mermen and fairy-tale heroes watch the passers-by, and the street itself is full with all kinds of shops, boutiques, art galleries, shopping centers and cafes.