How To Request Bus-Service Coach Hire in Edinburgh?
Hiring a minibus or a coach at the BCS Travel is as easy as to say "One, Two, Three":
"One" - click the "Request Availability and Price" button below;
"Two" - fill the blank;
"Three" - we will send you all the information about the requested trip.
We offer a personal transportation manager for significant events. Make a request using your e-mail:
"One" - click on the e-mail address on the top of this page;
"Two" - choose your preferred mailing system and send us information about where, when and how big your group of people should be;
"Three" - we will send you the best offer we can provide.
Rent a bus using a mobile/cellphone:
"One" - click on that green chat icon in the lower-right corner of the page;
"Two" - choose if you want to call via phone or to send a message via WhatsApp;
"Three" - we will answer your message or call and talk through all the details with you.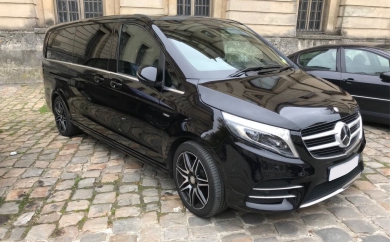 Van Class
Climate Control
Radio System
Navigation
A Van is an ideal vehicle for airport transfers, trade fair and event shuttle.
Made for small groups of people. We offer meet and great service for all of our airport transfer clients.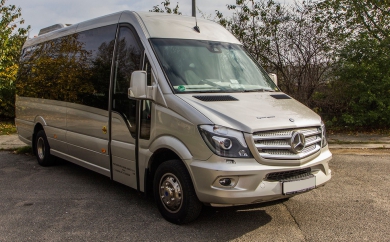 Minibus Class
Climate Control
Radio System
Microphone
Fridge
Navigation
Reclining seats
A Mini Bus is a good transport for groups of up to 16 people. The same perfect quality as bigger buses, our mini buses stand for comfortable travelling. All safety equipment is included (Speed Limiters, Safety Belts and ABS).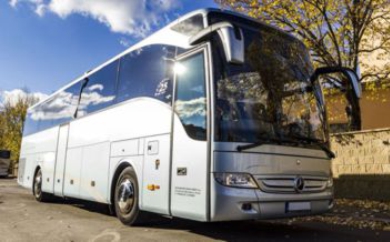 Bus Class
Climate Control
Radio System
Microphone
Fridge
WC
Reclining seats
Comfort Bus from BCS has all the comfort, that modern long-distance buses can offer, that allows passengers to enjoy relaxed travelling. Equipped with the entertainment systems. High priority is given to the safety equipment, including safety belts, speed limiters, ABS.
Event Transportation in Edinburgh
We can organize our buses in Edinburgh, United Kingdom based on your event schedule. Whether you need multiple coaches for multiple destinations or not, we've got you covered.
Edinburgh Tour Bus Charter
You can leverage our fully customized minibus rental and driver Edinburgh services, which is tailored to your unique travel needs, to enjoy the best out of your tour.
Exhibition Transportation
When you hire bus in Edinburgh, you get drivers that are locals and understand the city. Our drivers know their way around to any location, exhibition, theater, and all the other places you may wish to visit.
Road Shows in Edinburgh
Our bus charter in Edinburgh can be of great importance to you as a Pop Star or Politician. We'll help you make the most of your road shows.
Church Group Tours
Do you have a church conference or any form of historical place visitation, for your members? We'll make your transition to and from the site smooth and comfortable with coach rental Edinburgh.
Edinburgh Airport Transfers
Bus companies in Edinburgh will carry your group from the airport to your point of destination and bring you back to the airport when you wish.
Bus hire Edinburgh for Sports Events
Whether it's a football match, hockey game or any other sports event, we'll provide coach bus rental Edinburgh that'll take your team to anywhere they wish to go.
Edinburgh private bus rental for conference transfers
If your team is organizing or attending a conference bus rental Edinburgh can offer prearranged transportation for all participating people groups.
Why Should I Hire Bus rental in Edinburgh with Bus-Service company?
As one of the transportation leaders in Edinburgh, we offer outstanding services for our clients such as minibus rental for road trip Edinburgh.
With a classical high-level concept of what is expert tourist transportation, we achieve high standard solutions for enterprise trips and EDI Airport transfers.
What we stand for is Safety, Connectivity, Comfort, Cleanness, Reliability, Flexibility. Moving our customers from point A to point B in pre-scheduled time and in the safest way is our main priority.
If you have the same thoughts about what is essential in good traveling - we are aiming our service to you. Visit Edinburgh on the brand-new deluxe coaches that only the best modern bus companies Edinburgh can provide.
Charter a bus for a company event and experience your luxury journey supervised by our support team. We will respond to your requests 24/7 if you require any help.
Contact us now and get the best offer regarding coach hire Edinburgh from Bus-Service Company. Request availability and cost below.
Give your team the treat they deserve with Bus-Service Coach and Minibus Hire in Edinburgh. Contact us now to get started.
Edinburgh Castle is a great place to visit during your holiday time or Christmas. the stronghold that was once the home of Scottish rulers and presently serves mostly as a museum. It rises four hundred forty-three feet (one hundred thirty-four meters) above sea level and tops the city of Edinburgh from a volcanic rock named Castle Rock.
Castle Rock has remained the place of social activity for at least three thousand years. By the 6th century a Celtic tribe called the Votadini, or Gododdin, had raised Eidyn's Hill Fort on the rock. The first king of Scotland who is known to have established his residence on Castle Rock was Malcolm III Canmore(ruled in XI century). His religious wife Queen Margaret, who died in the castle at the end of the 11th century and was later canonized as St. Margaret of Scotland, is honored in St. Margaret's Chapel, which was established between about 1130 and 1140 on the highest spot of the rock and is the earliest surviving structure on the castle territories.
Between the late 13th century and mid-14th, the castle was captured two times by English intruders and twice retaken by the Scots. David's Tower, some hundred feet (thirty meters) at the top, was constructed to honor King David II, but was largely demolished in an assault two hundred years later. A large cannon named Mons Meg was placed in the mid-15th century and can still be observed. The Great Hall, which also remains, was finished by James IV at the beginning of the 16th century. In an adjacent structure called the Royal Palace is the apartment where James VI, the future King James I of England, was born. Following the devastating siege of 1571–73, the castle's defenses were reinforced with the construction of the Half-Moon Battery (cannon emplacement) and the Portcullis Gate. If you are willing to know to visit a castle to get to know more - request a quote and get the best transportation offer from BCS Travel.