How To Request Bus-Service Coach Hire in Hannover?
Our company is offering an effortless and understandable way to rent a coach and organize your trip.
Three simple steps:
The first step - click the "Request Availability and Price" button below;
The second step - fill the straightforward request blank;
The third step - we will send you all the information about the requested trip.
Another easy three-step way to do it is to:
The first step - click on the e-mail address on the top of this page;
The second step - choose your preferred mailing system and send us information about where, when and in how big group of people you should be;
The third step - we will send you our offer.
As well you can:
The first step - click on the green chat icon in the lower-right corner of the page;
The second step - choose if you want to call via phone or to send a message via WhatsApp;
The third step - we will answer your message or call and talk all the details with you.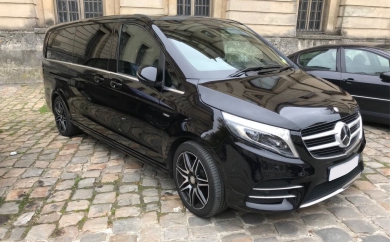 Van Class
Climate Control
Radio System
Navigation
A Van is an ideal vehicle for airport transfers, trade fair and event shuttle.
Made for small groups of people. We offer meet and great service for all of our airport transfer clients.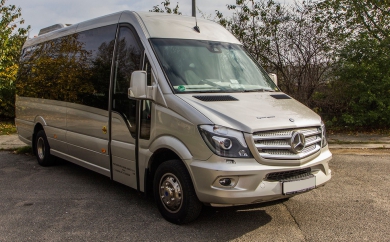 Minibus Class
Climate Control
Radio System
Microphone
Fridge
Navigation
Reclining seats
A Mini Bus is a good transport for groups of up to 16 people. The same perfect quality as bigger buses, our mini buses stand for comfortable travelling. All safety equipment is included (Speed Limiters, Safety Belts and ABS).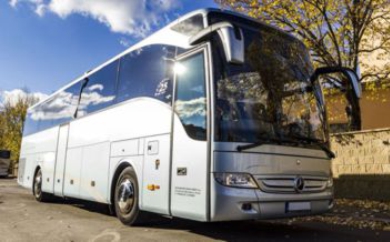 Bus Class
Climate Control
Radio System
Microphone
Fridge
WC
Reclining seats
Comfort Bus from BCS has all the comfort, that modern long-distance buses can offer, that allows passengers to enjoy relaxed travelling. Equipped with the entertainment systems. High priority is given to the safety equipment, including safety belts, speed limiters, ABS.
Event Transportation in Hannover
We can organize our buses in Hannover, Germany based on your event schedule. Whether you need multiple coaches for multiple destinations or not, we've got you covered.
Hannover Tour Bus Charter
You can leverage our fully customized minibus rental and driver Hannover services, which is tailored to your unique travel needs, to enjoy the best out of your tour.
Exhibition Transportation
When you hire bus in Hannover, you get drivers that are locals and understand the city. Our drivers know their way around to any location, exhibition, theater, and all the other places you may wish to visit.
Road Shows in Hannover
Our bus charter in Hannover can be of great importance to you as a Pop Star or Politician. We'll help you make the most of your road shows.
Church Group Tours
Do you have a church conference or any form of historical place visitation, for your members? We'll make your transition to and from the site smooth and comfortable with coach rental Hannover.
Hannover Airport Transfers
Bus companies in Hannover will carry your group from the airport to your point of destination and bring you back to the airport when you wish.
Bus hire Hannover for Sports Events
Whether it's a football match, hockey game or any other sports event, we'll provide coach bus rental Hannover that'll take your team to anywhere they wish to go.
Hannover private bus rental for conference transfers
If your team is organizing or attending a conference bus rental Hannover can offer prearranged transportation for all participating people groups.
Why Should I Hire Bus rental in Hannover with Bus-Service company?
Bus-Service offers beautiful charter opportunities in Hannover such as minibus rental for road trip Hannover.
With an advanced concept of what is expert tourist transportation, we implement the high standard solutions for enterprise trips and HAJ Airport transfers.
We make every trip Safe, Reliable, Comfortable, Clean, and Flexible. Relaxing and well-organized trips are our main priority.
If you care for similar matters - we are offering to choose us.
When you rent a coach from us, you'll tour with the most comfortable and eco-friendly coaches from bus companies Hannover.
Hire a bus for a business occasion and experience your leisure trip conducted by our crew.
During the trip, we will answer your calls 24/7 if you need any assistance.
Write to us now, and get the best offer regarding coach hire Hannover from the Bus-Service Company.
Request availability and cost below.
Give your team the treat they deserve with Bus-Service Coach and Minibus Hire in Hannover. Contact us now to get started.
German tourism is one of the biggest industries for the country. The German government is keen to encourage people to take advantage of it and encourage tourists to learn more about it. In many cities, there are special lower-price train tickets for tourist groups. Also, there are many signs and directions in English, so that the visitors will not get lost.
Of course, when you travel with our company, you will not need to look around for the places, because our local drivers know every corner of the city.
When you visit Hannover for business or to have fun, you would be offered many opportunities for both occasions.
World-known brands are naturally connected with the Hannover commercial area: big businesses and concerns such as Johnson Controls, Bahlsen, Komatsu-Hanomag, Continental, KIND Hörgeräte, Dirk Rossmann, MTU, Sennheiser, Solvay Deutschland, and TUI are based there. Volkswagen AG (Commercial Vehicles) is the largest employer in Hannover with around twenty thousand employees. All-together, approximately thirty thousand workers are employed by the automotive manufacturers in the city, including outside suppliers. In the realm of media, significant German players include the publishing firms Schlütersche Verlagsgesellschaft, Madsack and the TV company TVN.
Insurance companies, such as VHV, VGH, and Concordia, are all present in the city. And important commercial services providers also have head offices or departments in the city.
Home to innovative businesses and a center of services as well as nationwide and global commerce, the Hannover area offers attractive prospects. Developed and ever-growing financial formations, made of traditional sectors and groundbreaking rising industries, form the foundation for these prospects.
Hannover also has a rich cultural life. Many concerts with famous musicians, theater premiers, museums, art festivals and more are happening in the city all the time.
In the central part of Hannover, you can find unique German old-fashioned buildings. They have an amazing charm. They are almost sparkling a glow of the world-famous German fairy-tales. Beautiful both during the summer and Christmas time. When winter comes, the streets light-up with many decorations. Snow falls slowly, and you can enjoy the relaxing atmosphere. It is definitely a good time to visit Hannover when you have the Christmas holidays.
Whether you are willing to visit Hannover for business or for a vacation — contact us, and we will provide you with the best transportation options on the market. Comfort-class, VIP, private bus charters — we have it all.
Request availability and price today and get the best offer.