How To Request Bus-Service Coach Hire in Heidelberg?
Our company is offering an effortless and understandable way to rent a coach and organize your trip.
Three simple steps:
The first step - click the "Request Availability and Price" button below;
The second step - fill the straightforward request blank;
The third step - we will send you all the information about the requested trip.
Another easy three-step way to do it is to:
The first step - click on the e-mail address on the top of this page;
The second step - choose your preferred mailing system and send us information about where, when and in how big group of people you should be;
The third step - we will send you our offer.
As well you can:
The first step - click on the green chat icon in the lower-right corner of the page;
The second step - choose if you want to call via phone or to send a message via WhatsApp;
The third step - we will answer your message or call and talk all the details with you.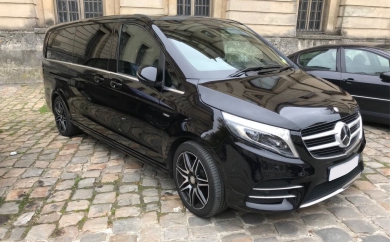 Van Class
Climate Control
Radio System
Navigation
A Van is an ideal vehicle for airport transfers, trade fair and event shuttle.
Made for small groups of people. We offer meet and great service for all of our airport transfer clients.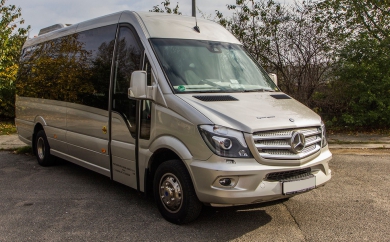 Minibus Class
Climate Control
Radio System
Microphone
Fridge
Navigation
Reclining seats
A Mini Bus is a good transport for groups of up to 16 people. The same perfect quality as bigger buses, our mini buses stand for comfortable travelling. All safety equipment is included (Speed Limiters, Safety Belts and ABS).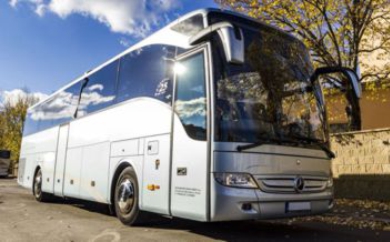 Bus Class
Climate Control
Radio System
Microphone
Fridge
WC
Reclining seats
Comfort Bus from BCS has all the comfort, that modern long-distance buses can offer, that allows passengers to enjoy relaxed travelling. Equipped with the entertainment systems. High priority is given to the safety equipment, including safety belts, speed limiters, ABS.
Event Transportation in Heidelberg
We can organize our buses in Heidelberg, Germany based on your event schedule. Whether you need multiple coaches for multiple destinations or not, we've got you covered.
Heidelberg Tour Bus Charter
You can leverage our fully customized minibus rental and driver Heidelberg services, which is tailored to your unique travel needs, to enjoy the best out of your tour.
Exhibition Transportation
When you hire bus in Heidelberg, you get drivers that are locals and understand the city. Our drivers know their way around to any location, exhibition, theater, and all the other places you may wish to visit.
Road Shows in Heidelberg
Our bus charter in Heidelberg can be of great importance to you as a Pop Star or Politician. We'll help you make the most of your road shows.
Church Group Tours
Do you have a church conference or any form of historical place visitation, for your members? We'll make your transition to and from the site smooth and comfortable with coach rental Heidelberg.
Heidelberg Airport Transfers
Bus companies in Heidelberg will carry your group from the airport to your point of destination and bring you back to the airport when you wish.
Bus hire Heidelberg for Sports Events
Whether it's a football match, hockey game or any other sports event, we'll provide coach bus rental Heidelberg that'll take your team to anywhere they wish to go.
Heidelberg private bus rental for conference transfers
If your team is organizing or attending a conference bus rental Heidelberg can offer prearranged transportation for all participating people groups.
Why Should I Hire Bus rental in Heidelberg with Bus-Service company?
Our company offers the most reliable bus charter services in Heidelberg such as minibus rental for road trip Heidelberg.
We have defined for our-self a clear vision of what is the expert customer service.
Safety, Comfort, Cleanness, Connectivity, Reliability, Flexibility are the core foundation of our work.
No matter how many people we are bringing, where they need, each one of our passengers is essential for us.
Our client needs to feel safe and cared for.
Bus companies Heidelberg prepared the best modern and luxurious vehicles for you and your team.
Our personnel are professionals with great knowledge of their tasks and how to do them at the expert level.
Call us 24/7 while traveling from FRA airport or other destinations to the Heidelberg, our hotline is always available.
Contact us and get the best offer regarding coach hire Heidelberg from the Bus-Service Company.
Request availability and cost below.
Give your team the treat they deserve with Bus-Service Coach and Minibus Hire in Heidelberg. Contact us now to get started.
Traveling By a Charter Bus in Heidelberg
Being one of the best holiday destinations in Germany, Heidelberg is located in the Neckar River valley. It has the best university in Germany, which is the Ruperto Carola, making the place a sought-after destination for students and scholars all around the world.
The perfect cozy atmosphere of its pubs, the beauty of its old town as well as the youthful air of Heidelberg makes it a very stunning vacation holidays.
Traveling by a charter bus in Heidelberg is surely the best way to see the beauty of its city. As a travel spot, Heidelberg is rich in thrilling places to visit.
Some of the best things to do in Heidelberg are picked below:
The River Neckar
In this area, you will discover a fleet of passengers ship docked on the river. Renting one of the ships for a 3-hour joyride around the Neckar Valley is the best and a perfect way to discover this peaceful location. While journeying around the place, you no doubt marvel at the beauty of the charming villages about River Neckar.
If you are one of those audacious travelers out there, then renting a bicycle would surely make your soul happy. Pedaling is another excellent way to see the best of Heidelberg. Special cycle routes have been created for the cyclists. Thus, the views would be all more beautiful and interesting with more road space.
Altstadt – The Old Town
Being a small village, every nook and corner of Altstadt is within everyone's reach. To start with, you might begin from Bismarckplatz for you to reach Hauptstrasse, also known as the High Street. On the High Street, you could have a ball of time by shopping along the arcades. You might also spend your time relaxing at different roadside kiosks gossiping luxurious coffee and snacks.
To make things a bit easier, you could even organize for a charter bus tour along with Heidelberg Tourist Office. They will help you travel around the area for at least two hours.
Heidelberg Castle
Are you planning to spend your Christmas in Heidelberg? Then your Heidelberg holidays should include visiting the famous Heidelberg Castle! On the door of this half-ruined castle drapes an iron ring. Going by the folklores, anyone who bites through the ring has the right to claim the castle.
This place to see in Heidelberg is the best architectural splendor of the region. You can purchase a castle travel guide accessible at the ticket office if you want to know more about the history of the Heidelberg Castle.
Even though entering the castle gardens is totally free, you need to pay for an entrance ticket for the Castle courtyard.
Are you ready to visit Heidelberg?
If you are planning to travel to Heidelberg, traveling is never a problem with a charter bus. These services will provide you with everything to meet all your requirements and needs, whether you are on a vacation tour or on a business trip. Hence, visit Heidelberg today and see its beauty by your own eyes.