How To Request Bus-Service Coach Hire in Helsinki?
Hiring a minibus or a coach at the Bus-Service is as easy as to say "One, Two, Three":
"One" - click the "Request Availability and Price" button below;
"Two" - fill the blank;
"Three" - we will send you all the information about the requested trip.
We offer a personal transportation manager for significant events. Make a request using your e-mail:
"One" - click on the e-mail address on the top of this page;
"Two" - choose your preferred mailing system and send us information about where, when and how big your group of people should be;
"Three" - we will send you the best offer we can provide.
Rent a bus using a mobile/cellphone:
"One" - click on that green chat icon in the lower-right corner of the page;
"Two" - choose if you want to call via phone or to send a message via WhatsApp;
"Three" - we will answer your message or call and talk through all the details with you.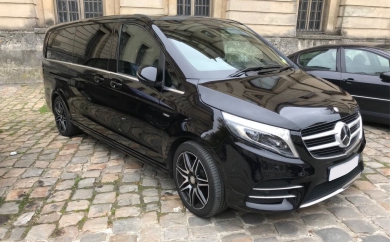 Van Class
Climate Control
Radio System
Navigation
A Van is an ideal vehicle for airport transfers, trade fair and event shuttle.
Made for small groups of people. We offer meet and great service for all of our airport transfer clients.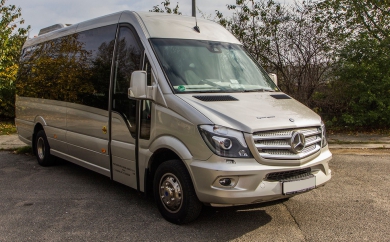 Minibus Class
Climate Control
Radio System
Microphone
Fridge
Navigation
Reclining seats
A Mini Bus is a good transport for groups of up to 16 people. The same perfect quality as bigger buses, our mini buses stand for comfortable travelling. All safety equipment is included (Speed Limiters, Safety Belts and ABS).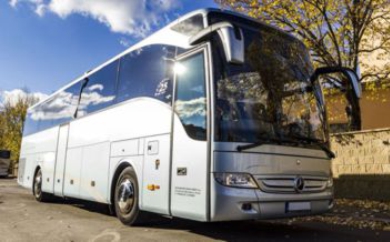 Bus Class
Climate Control
Radio System
Microphone
Fridge
WC
Reclining seats
Comfort Bus from BCS has all the comfort, that modern long-distance buses can offer, that allows passengers to enjoy relaxed travelling. Equipped with the entertainment systems. High priority is given to the safety equipment, including safety belts, speed limiters, ABS.
Event Transportation in Helsinki
We can organize our buses in Helsinki, Finland based on your event schedule. Whether you need multiple coaches for multiple destinations or not, we've got you covered.
Helsinki Tour Bus Charter
You can leverage our fully customized minibus rental and driver Helsinki services, which is tailored to your unique travel needs, to enjoy the best out of your tour.
Exhibition Transportation
When you hire bus in Helsinki, you get drivers that are locals and understand the city. Our drivers know their way around to any location, exhibition, theater, and all the other places you may wish to visit.
Road Shows in Helsinki
Our bus charter in Helsinki can be of great importance to you as a Pop Star or Politician. We'll help you make the most of your road shows.
Church Group Tours
Do you have a church conference or any form of historical place visitation, for your members? We'll make your transition to and from the site smooth and comfortable with coach rental Helsinki.
Helsinki Airport Transfers
Bus companies in Helsinki will carry your group from the airport to your point of destination and bring you back to the airport when you wish.
Bus hire Helsinki for Sports Events
Whether it's a football match, hockey game or any other sports event, we'll provide coach bus rental Helsinki that'll take your team to anywhere they wish to go.
Helsinki private bus rental for conference transfers
If your team is organizing or attending a conference bus rental Helsinki can offer prearranged transportation for all participating people groups.
Why Should I Hire Bus rental in Helsinki with Bus-Service company?
Bus-Service offers the most trustworthy services in Helsinki such as minibus rental for road trip Helsinki.
With a definite concept of what is skillful tourist transportation, we implement high standard solutions for enterprise trips and HEL Airport transfers.
What we take in mind is Safety, Comfort, Flexibility, Cleanness, Connectivity, Reliability.Bringing our clients where they need to be just in time and in the safest way is our main priority.
If it is your priority too - we are offering to choose us.
Visit Helsinki on the brand-new luxurious vehicles that only the most solid modern bus companies Helsinki can provide. Rent a bus for a corporate holiday and enjoy your luxury trip overseen by our support team.
We will answer your phone-calls 24/7 if you need any assistance during your travel.
Contact us now and get the best offer regarding coach hire Helsinki from the Bus-Service Company. Request availability and cost below.
Give your team the treat they deserve with Bus-Service Coach and Minibus Hire in Helsinki. Contact us now to get started.
The capital of Finland - Helsinki is a good place to visit during the summer holiday, or even during Christmas time. Helsinki stands just a few hundred kilometers to the South from Lapland, where the house of Santa Claus is located. So it can be an interesting place to visit with your children.
But there are plenty of places to visit in Helsinki itself.The high green dome of Helsinki Cathedral rises above the Helsinki cityscape, and if you look from the sea at night it appears like a shining lantern.
Whatever your purpose for touring Helsinki, this beautiful neoclassical cathedral is one of the scenes you want to check out.An area of green reservation directly in the middle of the city, a spot where visitors and Helsinki residents come to take meals, rest and be entertained during summertime.
At this time of year, the area in front of Cafe Kappeli is the Espa Stage, an open-air venue with an impressive program of shows and live music concerts.Come and visit in July for Jazz-Espa, a month-long jazz festival, or in June for the Marimekko Fashion Show.
One of the architectural must-visit places is the Temppeliaukio church.The structure is partly underground and has been cut from the bedrock, which creates the internal walls.
Around the inner dome is a round skylight, through which light floods into the central chamber throughout the day.Every part of the design and furniture inside this extraordinary church was designed by the architects.
Approaching it along Fredrikinkatu, the large copper roof of Temppeliaukio Church will seem like some kind of an alien invasion. A few kilometers north of the city center is an outdoor museum that has a wide compilation of typical Finnish constructions from around the nation.
The museum is accessible all summer and this is when qualified guides are decorated in traditional garb can tell you about work and life in provincial Finland over the last four centuries.
The old farms, workshops, manor houses and cottages are joined by a system of paths, offering for soothing walks through the forest or next to the shoreline.Sauna is a world-renowned word and it is a Finnish word. There are three million saunas in Finland, a large number of which are located right in Helsinki.
Many are accessible to the public, and whether you're touring in winter or summer, it's just one of those things you have to try in Finland.You can find public saunas Merihaka, Kotiharju, Hermanni districts or the new "Löyly" complex.
There are some sauna manners to learn but it isn't hard at all: Men and women are normally separate, to be naked is the best way, but towels are allowed, and it's usually better to talk quietly if you need to talk at all.
There is also an amusement park with 65 years of entertaining history. During all that time it has been distributing all its earnings to Päivän Säätiö, a Finnish child welfare foundation.The park is child-friendly and provides a lot of attractions. Definitely worth visiting.