How To Request a Bus From BCS Travel in Luxembourg, Luxembourg?
Hiring a minibus or a coach at the BCS Travel is as easy as to say "One, Two, Three":
"One" - click the "Request Availability and Price" button below;
"Two" - fill the blank;
"Three" - we will send you all the information about the requested trip.
We offer a personal transportation manager for significant events. Make a request using your e-mail:
"One" - click on the e-mail address on the top of this page;
"Two" - choose your preferred mailing system and send us information about where, when and how big your group of people should be;
"Three" - we will send you the best offer we can provide.
Rent a bus using a mobile/cellphone:
"One" - click on that green chat icon in the lower-right corner of the page;
"Two" - choose if you want to call via phone or to send a message via WhatsApp;
"Three" - we will answer your message or call and talk through all the details with you.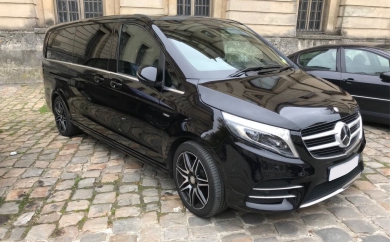 Van Class
Climate Control
Radio System
Navigation
A Van is an ideal vehicle for airport transfers, trade fair and event shuttle.
Made for small groups of people. We offer meet and great service for all of our airport transfer clients.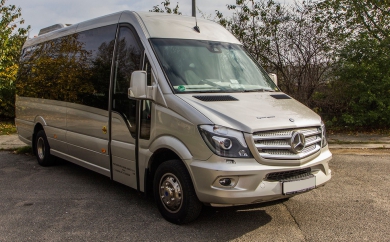 Minibus Class
Climate Control
Radio System
Microphone
Fridge
Navigation
Reclining seats
A Mini Bus is a good transport for groups of up to 16 people. The same perfect quality as bigger buses, our mini buses stand for comfortable travelling. All safety equipment is included (Speed Limiters, Safety Belts and ABS).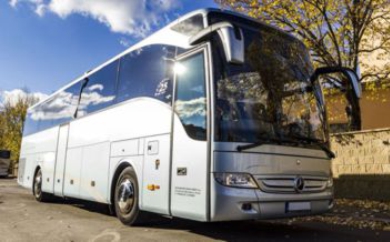 Bus Class
Climate Control
Radio System
Microphone
Fridge
WC
Reclining seats
Comfort Bus from BCS has all the comfort, that modern long-distance buses can offer, that allows passengers to enjoy relaxed travelling. Equipped with the entertainment systems. High priority is given to the safety equipment, including safety belts, speed limiters, ABS.
Event Transportation
We can organize our coaches based on your event schedule. Whether you need multiple coaches for multiple destinations or not, we've got you covered.
Tour Bus Charter
You can leverage our fully customized coach rental, which is tailored to your unique travel needs, to enjoy the best out of your tour.
Exhibition Transportation
When you hire our coach, you get drivers that are locals and understand the city. Our drivers know their way around to any location, exhibition, theater, and all the other places you may wish to visit.
Road Shows
Our coaches can be of great importance to you as a Pop Star or Politician. We'll help you make the most of your road shows.
Church Group Tours
Do you have a church conference or any form of historical place visitation, for your members? We'll make your transition to and from the site smooth and comfortable.
Airport Transfers
Our coach will carry your group from the airport to your point of destination and bring you back to the airport when you wish.
Sports Events
Whether it's a football match, hockey game or any other sports event, we'll provide coaches for hire that'll take your team to anywhere they wish to go.
Conference transfers
If your team is organizing or attending a conference we can offer prearranged transportation for all participating people groups.
Why Should I Hire a Coach from The BCS Travel?
Luxembourg is a great place to visit, especially when you are using for the transportation of your team our luxurious charter buses.
We are experts in corporate transportation; it doesn't matter if your traveling team consists of 10 people or 1 000, we will get you where you need in time.
Comfort, Reliability, Safety, Cleanness, Connectivity, Flexibility are our strong foundation, on that we build our service.
Clients never have to worry about anything during the trip; we will take care of everything. Their safety is the main priority for us.
If your thoughts about what is essential in good traveling are similar to our service foundation — then our service is definitely made for you.
Visit Luxembourg or LUX Airport on the advanced luxury provided by BCS Travel.
Rent a bus with a driver from us and have an amazing trip.
Our hotline will answer your calls 24/7 if you need any additional assistance.
Reach us right now and receive the most suitable offer from the BCS Travel Company.
Request availability and price below.
Give your team the treat they deserve with BCS Travel Services Coach and Minibus Hire in Luxembourg. Contact us now to get started.
Travel in Luxembourg:
Some fantastic things to do at the crossroads of Western Europe, Luxembourg might be a small country, but it is home to the continent's most progressive and well off, modern nations. This slice of European land surrounded by Germany, France, and Belgium attracts a handsome stream of travelers looking for a unique experience in an elegant city at the heart of the country and the splendid landscapes that encircle it.
Visit the Place Guillaume II
This is the best place to start your tour of the country. Located right at the center, it is the most famous square in Luxembourg City and is a meeting place of the town's winding, medieval passages. It is always heaving with lively tourists from around the world, which makes it an ideal place to start your Luxembourg visit. The statues and grand buildings that grace its surroundings will give you an idea about the style of the Duchy you're going to explore.
Descend to the Grund
The relatively lower town of Grund sits on the banks of River Alzette at the foothills of the former fortress that surrounded the Luxembourg City in its protection. Grund is the heart of the city's old town and one of the best places to see in Luxembourg, just at a 15-minute descend downhill. The passages are dotted along the way with viewpoints perched into the cliffs offering great views of the Luxembourg City. However, there are elevators available too, to cut that journey short to just a few seconds.
Get lost underground at the Bock Casemates
Luxembourg may be a small nation, but it had its due share in conflicts throughout hundreds of years and successfully defended itself against almost every onslaught. All this was made possible due to a huge Bock, which stands dominantly in the historic part of Luxembourg City. It is a distinctive landmark in itself and an impenetrable piece of rock right at the tip of the current old town where the city based its heavy fortifications on over the years. Most of these battlements were dismantled as Luxembourg signed numerous neutrality treaties with neighboring powers, but you can still experience the 17km long underground network of casemates that were dug inside and out of the Bock. These tunnels open up to picturesque views of the city.
Wander around the Kirchberg district
Kirchberg district is Luxembourg's modern center, styled with contemporary architecture. Its art museums are full of modern collections, and the neighborhood is home to the European Court of Justice. The pleasant, green parks make for a great place to stroll in a mild summer afternoon and showcase the best of Luxembourg.
Go Castle hopping
The best thing about visiting Luxembourg is that everything in the country is accessible within a few minute drive. Not that far from the Luxembourg City's bounds, you'll be able to find a lot of attractive villages along the countryside that have numerous medieval castles. There are around 100 different castles and fortresses sprawled all across the country. The stately palaces and grand fortresses make the country one of the most attractive displays of exquisite medieval architecture readily accessible to visitors with ease.