How To Request a Bus From BCS Travel in New York City, United States?
Hiring a minibus or a coach at the BCS Travel is as easy as to say "One, Two, Three":
"One" - click the "Request Availability and Price" button below;
"Two" - fill the blank;
"Three" - we will send you all the information about the requested trip.
We offer a personal transportation manager for significant events. Make a request using your e-mail:
"One" - click on the e-mail address on the top of this page;
"Two" - choose your preferred mailing system and send us information about where, when and how big your group of people should be;
"Three" - we will send you the best offer we can provide.
Rent a bus using a mobile/cellphone:
"One" - click on that green chat icon in the lower-right corner of the page;
"Two" - choose if you want to call via phone or to send a message via WhatsApp;
"Three" - we will answer your message or call and talk through all the details with you.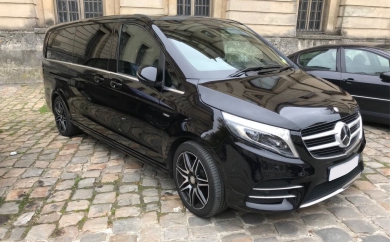 Van Class
Climate Control
Radio System
Navigation
A Van is an ideal vehicle for airport transfers, trade fair and event shuttle.
Made for small groups of people. We offer meet and great service for all of our airport transfer clients.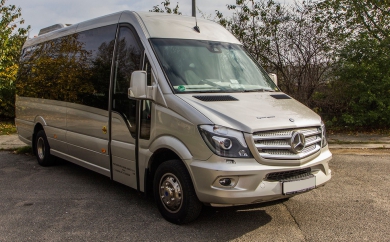 Minibus Class
Climate Control
Radio System
Microphone
Fridge
Navigation
Reclining seats
A Mini Bus is a good transport for groups of up to 16 people. The same perfect quality as bigger buses, our mini buses stand for comfortable travelling. All safety equipment is included (Speed Limiters, Safety Belts and ABS).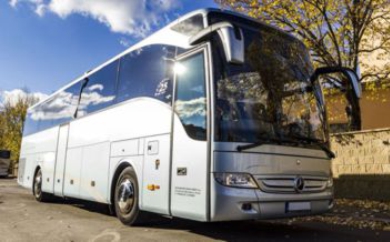 Bus Class
Climate Control
Radio System
Microphone
Fridge
WC
Reclining seats
Comfort Bus from BCS has all the comfort, that modern long-distance buses can offer, that allows passengers to enjoy relaxed travelling. Equipped with the entertainment systems. High priority is given to the safety equipment, including safety belts, speed limiters, ABS.
Event Transportation
We can organize our coaches based on your event schedule. Whether you need multiple coaches for multiple destinations or not, we've got you covered.
Tour Bus Charter
You can leverage our fully customized coach rental, which is tailored to your unique travel needs, to enjoy the best out of your tour.
Exhibition Transportation
When you hire our coach, you get drivers that are locals and understand the city. Our drivers know their way around to any location, exhibition, theater, and all the other places you may wish to visit.
Road Shows
Our coaches can be of great importance to you as a Pop Star or Politician. We'll help you make the most of your road shows.
Church Group Tours
Do you have a church conference or any form of historical place visitation, for your members? We'll make your transition to and from the site smooth and comfortable.
Airport Transfers
Our coach will carry your group from the airport to your point of destination and bring you back to the airport when you wish.
Sports Events
Whether it's a football match, hockey game or any other sports event, we'll provide coaches for hire that'll take your team to anywhere they wish to go.
Conference transfers
If your team is organizing or attending a conference we can offer prearranged transportation for all participating people groups.
Why Should I Hire a Coach from The BCS Travel?
Our travel company offers the best services that you will find in New York City.
We are experts in passenger transportation; we provide great solutions for business trips and JFK, EWR, LGA airport transfers.
What we take care of is Comfort, Safety, Reliability, Cleanness.
You don't need to worry about a thing.
From the beginning and until the end of your journey, you will be safe and well served.
Have a journey on the newest luxurious coaches, well maintained and clean.
Rent a bus for a business event and have your unique trip optimized by our support team.
We will answer your calls 24/7 if you need any assistance.
Contact us now, and the best offer from the BCS Travel Company is yours.
Request availability and price below.
Give your team the treat they deserve with BCS Travel Services Coach and Minibus Hire in New York City. Contact us now to get started.
Travel New York City
New York is one of the iconic tourist destinations in the US. But it can sometimes be overwhelming to visit New York City. That's because there are lots of places to see in New York City, so you can't just book a flight and expect to fumble your way through your vacation.
If you are planning for a trip to visit New York City, then you've come to the right place.
Things to do in New York City
New York City offers an endless list of things you should do while on your trip. From visiting landmarks to museums and guided tours, there's something for everyone. However, to get the best out of your journey, you need to know the best things to do in New York City.
THEY INCLUDE:
Skyline Views of Manhattan
Most first-timers begin their journey by heading to Manhattan and enjoying the jaw-dropping views. There is a trio of observatories that will offer an amazing view of the city. For instance, the Empire State Building has both an indoor and outdoor observatory that sits at 102 floors.
Set sail into the Harbour
Your New York holiday is not complete without you plunging into the waters that surround this beautiful city. It's easy to forget when you are walking through the streets of New York that the entire town is an island. Sailing through the Manhattan Waterways is a beautiful way to get a glimpse of NYC.
Take a walk through the Central Park
This is also another major tourist destination with an enormous communal backyard. One of the things to do in New York City definitely includes a walk through this amazing park where you can kick back and relax as you enjoy the nature around.
Central Park is about 843 acres and its home to several attractions including the Loeb Boathouse, The Great Lawn and Central Park Zoo among others.
Take a walk through the Brooklyn Bridge
Brooklyn Bridge is one of the leading landmarks in New York City. The bridge presents exhilarating panoramas that are to-die-for, especially if you are a fan of heights. With two strong towers on the side, the bridge is also a practical way to travel between Brooklyn and Downtown Manhattan.
Enjoy New York City Holidays
Are you looking for the best place to spend your holiday, then New York is the best place to be. The town will bring the festivities of any holiday to life. You can also spend your Christmas in New York City without feeling the need to go back home. The best part of it all is that New York can accommodate your whole family. There's endless entertainment for families visiting New York City.
Your trip isn't over yet. Before packing your bags and leaving this amazing city, make sure you have a taste of New York's outstanding Steaks or even seafood. You really can't leave New York City without getting involved in some of the local specialties. These include eating the town's signature pizza, finding your local bagel joint and looking for a good tea.