How To Request Bus-Service Coach Hire in Nice, France?
Our company is offering an effortless and understandable way to rent bus charter in Nice and organize your trip.
Three simple steps:
The first step - click the "Request Availability and Price" button below;
The second step - fill the straightforward request blank;
The third step - we will send you all the information about the requested trip.
Another easy three-step way to do it is to:
The first step - click on the e-mail address on the top of this page;
The second step - choose your preferred mailing system and send us information about where, when and in how big group of people you should be;
The third step - we will send you our offer.
As well you can:
The first step - click on the green chat icon in the lower-right corner of the page;
The second step - choose if you want to call via phone or to send a message via WhatsApp;
The third step - we will answer your message or call and talk all the details with you.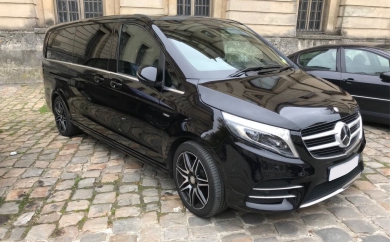 Van Class
Climate Control
Radio System
Navigation
A Van is an ideal vehicle for airport transfers, trade fair and event shuttle.
Made for small groups of people. We offer meet and great service for all of our airport transfer clients.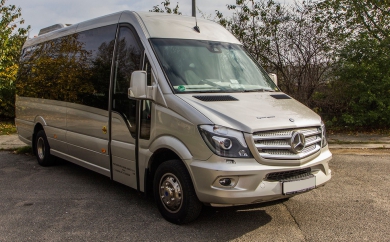 Minibus Class
Climate Control
Radio System
Microphone
Fridge
Navigation
Reclining seats
A Mini Bus is a good transport for groups of up to 16 people. The same perfect quality as bigger buses, our mini buses stand for comfortable travelling. All safety equipment is included (Speed Limiters, Safety Belts and ABS).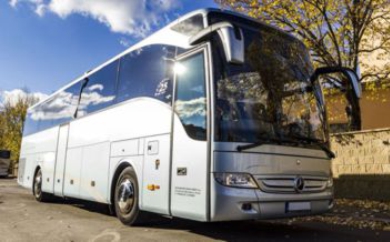 Bus Class
Climate Control
Radio System
Microphone
Fridge
WC
Reclining seats
Comfort Bus from BCS has all the comfort, that modern long-distance buses can offer, that allows passengers to enjoy relaxed travelling. Equipped with the entertainment systems. High priority is given to the safety equipment, including safety belts, speed limiters, ABS.
Event Transportation in Nice
We can organize our buses in Nice, France based on your event schedule. Whether you need multiple coaches for multiple destinations or not, we've got you covered.
Nice Tour Bus Charter
You can leverage our fully customized minibus rental and driver Nice, which is tailored to your unique travel needs, to enjoy the best out of your tour.
Exhibition Transportation
When you hire bus in Nice, you get drivers that are locals and understand the city. Our drivers know their way around to any location, exhibition, theater, and all the other places you may wish to visit.
Road Shows in Nice
Our coaches can be of great importance to you as a Pop Star or Politician. We'll help you make the most of your road shows.
Church Group Tours
Do you have a church conference or any form of historical place visitation, for your members? We'll make your transition to and from the site smooth and comfortable with coach rental Nice.
Nice Airport Transfers
Bus companies in Nice will carry your group from the airport to your point of destination and bring you back to the airport when you wish.
Bus Hire Nice for Sports Events
Whether it's a football match, hockey game or any other sports event, we'll provide coach bus rental Nice that'll take your team to anywhere they wish to go.
Conference transfers
If your team is organizing or attending a conference our bus rental Nice can offer prearranged transportation for all participating people groups.
Why Should I Hire Bus rental in Nice from Bus-Service?
Bus-Service offers the best services such as minibus rental for road trip Nice that you will find in Nice.
With a clear vision of what is expert passenger transportation, we provide high standard solutions for business trips and NCE airport transfers.
What we care for is Comfort, Safety, Cleanness, Reliability, Connectivity, Flexibility.
Taking our clients from location A to location B in time and in a secure way is our priority. If you care for the same matters - we are proposing our Nice private bus rental service to you.
Travel with the newest luxurious coaches, that a modern bus companies Nice can offer. Rent a bus for a business event and have your luxury trip led by our support team.
We will respond to your calls 24/7 if you need any assistance. Contact us now and get the best offer regarding coach hire Nice from Bus-Service Company.
Request availability and price below.
Give your team the treat they deserve with Bus-Service Coach and Minibus Hire in Nice. Contact us now to get started.
The tourist's favorite attraction in Nice is very obviously the sea. With seven kilometers of beach along the Promenade des Anglais, Nice has one of the longest and most prestigious beaches of the French Riviera. It's worth noting though that the beach is made of little stones, not sand – which does not look to have stopped the millions of bathers that get there every year.
To the west of the old town is "Castle Hill" - La colline du château, whose earlier stronghold was demolished three centuries ago. Now Castle Hill is a park filled with rich Mediterranean trees and plants, dividing the beach to the west from the old harbor, le vieux port, to the east.
The old harbor is now a yachting marina, where guests can come and value the luxury yachts of the super-wealthy. A warm night wander round the old harbor can be a unique experience, with the underwater floodlights on some boats glowing in the clear blue sea.
The old town of Nice curves round inland from "Castle Hill," from the Promenade des Anglais to the old harbor. Most of the historical district, including the famed flower market, is just following the east end of the beach. Accessing the old town, one proceeds from the open areas of the Promenade des Anglais into the tight streets of a common north Mediterranean city.
As in Italy, the small streets are flanked by big houses, up to five stories high, and painted in sunny colors, yellows, reds, and ochre. In numerous spots, restaurants spill out of the old buildings, their seats, and tables half covering the streets where transports could not move easily even if they were permitted. In a warm climate, the smells of Mediterranean cookery flowing out from the kitchens sometimes can be a mouth-watering experience.
Even if Nice had not museums and monuments, it would be a place whose charms would be plenty to satisfy many of its guests. But Nice does have both. Until recently, numerous of them were free; unhappily charges have now been added.
Most select of these is the Musée Matisse. Found in a villa, the Matisse Museum has a vast number of works spanning the artist's life.
There is another excellent museum, the Chagall Museum, on the Boulevard de Cimiez. The collection includes some four hundred works by Chagall, including the series of seventeen of Chagall's famous biblical paintings.
Even closer to the old town is the MAMAC(Museum of modern art and contemporary art), a French and American modern art museum, with works by Andy Warhol, Yves Klein, Niki de Saint Phalle, Roy Liechtenstein, and many others. This museum is positioned just a hundred meters from the Place Garibaldi.