How To Request Bus-Service Coach Hire in Nuremberg, Germany?
Bus hire Nuremberg "ABC." No complications - follow the instruction and get things done:
"A" - look for the "Request Availability and Price" button below and click it;
"B" - take a minute to fill the blank;
"C" - we will review your request ASAP and will send you our offer and information about the best transportation opportunities.
Request a trip using your e-mail, simple:
"A" - click on the e-mail address at the top of this page;
"B" - use you your favorite mailing system to send us your questions about coach availability and prices;
"C" - relax and wait while we are preparing for you the best offer on the market.
Make a request on the go with your mobile/cellphone:
"A" - locate the chat icon in the lower-right corner of the page;
"B" - click on it and choose if you want to call via phone or to send a message via WhatsApp. Talk to us;
"C" - Get our great coach offer.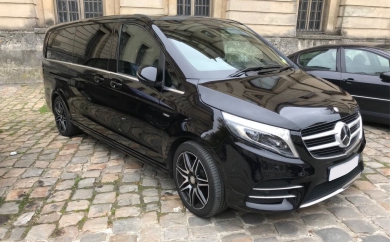 Van Class
Climate Control
Radio System
Navigation
A Van is an ideal vehicle for airport transfers, trade fair and event shuttle.
Made for small groups of people. We offer meet and great service for all of our airport transfer clients.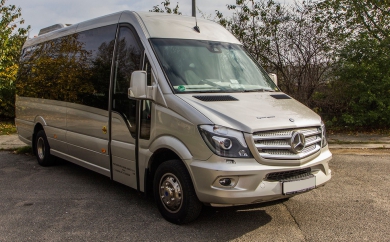 Minibus Class
Climate Control
Radio System
Microphone
Fridge
Navigation
Reclining seats
A Mini Bus is a good transport for groups of up to 16 people. The same perfect quality as bigger buses, our mini buses stand for comfortable travelling. All safety equipment is included (Speed Limiters, Safety Belts and ABS).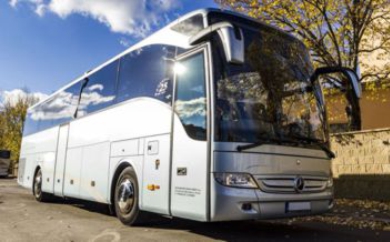 Bus Class
Climate Control
Radio System
Microphone
Fridge
WC
Reclining seats
Comfort Bus from BCS has all the comfort, that modern long-distance buses can offer, that allows passengers to enjoy relaxed travelling. Equipped with the entertainment systems. High priority is given to the safety equipment, including safety belts, speed limiters, ABS.
Event Transportation in Nuremberg
We can organize our buses in Nuremberg Germany based on your event schedule. Whether you need multiple coaches for multiple destinations or not, we've got you covered.
Nuremberg Tour Bus Charter
You can leverage our fully customized minibus rental and driver Nuremberg, which is tailored to your unique travel needs, to enjoy the best out of your tour.
Exhibition Transportation
When you hire bus in Nurembergh, you get drivers that are locals and understand the city. Our drivers know their way around to any location, exhibition, theater, and all the other places you may wish to visit.
Road Shows in Nuremberg
Our coaches can be of great importance to you as a Pop Star or Politician. We'll help you make the most of your road shows.
Church Group Tours
Do you have a church conference or any form of historical place visitation, for your members? We'll make your transition to and from the site smooth and comfortable with coach rental Nuremberg.
Nuremberg Airport Transfers
Bus companies in Nuremberg will carry your group from the airport to your point of destination and bring you back to the airport when you wish.
Sports Events
Whether it's a football match, hockey game or any other sports event, we'll provide coach bus rental Nuremberg that'll take your team to anywhere they wish to go.
Conference transfers
If your team is organizing or attending a conference bus rental Nuremberg can offer prearranged transportation for all participating people groups.
Why Should I Hire Bus rental in Nuremberg from Bus-Service?
Bus-Service Nature-Friendly Company offers one of the best services in Nuremberg.
With a futuristic vision of what a professional trip organization needs to become, we can create the highest standard solutions for business trips and NUE Airport transfers.
Connectivity, Safety, Comfort, Cleanness, Reliability, Flexibility are required to provide an outstanding trip, and we have it all in our arsenal.
Transporting our clients responsibly and reliably is our number one priority.
Visit Nuremberg on the brand-new deluxe coaches that only the best modern bus companies Nuremberg can provide.
Hire a bus for a scheduled or unscheduled corporate occasion and experience your leisure trip conducted by our crew. coach hire Nuremberg will answer your phone-calls 24/7 if you need any assistance during your travel.
Reach us right now, and you will receive the most suitable offer from the Bus-Service.
Request availability and price below.
Give your team the treat they deserve with Bus-Service Coach and Minibus Hire in Nuremberg. Contact us now to get started.
If you have the same vision of what is important to create a good traveling experience — then Nuremberg private bus rental service is a perfect fit for you.
Experience the Beauty of Germany: Things to See in Nuremberg. Have you heard of the Reich Party Rally Grounds? How about the Nuremberg Trials?
These are all situated in the Bavarian region of Germany. Located close to the Rhine-Maine-Danube Canal and the Pegnitz River, Nuremberg is a flourishing urban city with a vibrant past and modern-day life.
However, it's not simply the stories about World War II, which attract people to visit the city: toys, gingerbread, and Christmas in Nuremberg are some of the compelling reasons to visit Nuremberg.
Most Worthy Places to See in Nuremberg
You will find so many places to see and things to do in Nuremberg.
For individuals who feel traveling is not complete without a visit to a museum, Nuremberg has the Dokumentationszentrum Reichsparteitagsgelaende (Documentation Center Nazi Party Fembohaus) and the Stadtmuseum Fembohaus (City Museum Fembohaus).
The City Museum Fembohaus highlights the history of the city while the Documentation Center Nazi Party Fembohaus is an exhibition of the reason, the links and the outcomes of the Nazi occupation in Germany. It's undoubtedly a must-see for every history enthusiasts out there.
For those kids who love visiting museums, you might also find the German Railway Museum and the Spielzeugmuseum – a toy museum for kids of all ages and kids at heart.
For people who wish to spend their Nuremberg holidays in the park, the Nuremberg Museum is situated at least three miles from the heart of the city. Several historical sites you will see there include St. Egidien, Albrecht Durer House, Lochgefangnis Prison, and Kaiserburg.
If you like to see the castles, the Imperial Castle of Nuremberg is only a half-mile away from the heart of the city. For fans of religious sites, Nuremberg also has something for you. You have the Frauenkirche Dresden, St. Sebaldus Church, and St. Lorenz Church, all featuring their remarkable architectures.
Going away from the ancient city, you will find countless equally appealing things to see. In Further Strasse stands the Nuremberg Palace of Justice. The similar courthouse is where the Nuremberg War Crime Trials was held.
The most sought-after of such trials was the first in which the International Military Tribunal attempted the most critical capture of Nazi leaders. It ran from November 20, 1945, to October 1, 1946.
Constructed into the side of the Colosseum is Doku Zentrum, a museum that is dedicated to commemorate the Holocaust. This is somewhat near to the rally ground, and both destinations could be visited in a short time, even though it's worth spending your afternoon walking around the Holocaust Museum.
Before you head home, you must also pay a visit to the Handwerkerhof. If you are traveling this city during the Christmas season, you must never forget visiting the best Christmas market in the city, which is the Christkindlesmarkt.
Are You Ready to See the Beauty of Nuremberg?
These are only some of the best of Nuremberg.
You will find many other sights worth visiting and seeing in the city with minibus rental for road trip Nuremberg.
The ones we mentioned here are only a few to highlight the several things there are to see and do in this majestic city in Germany with bus charter in Nuremberg.