How To Request Bus-Service Coach Hire in Paris, France?
Our company is offering an effortless and understandable way to coach hire Paris and organize your trip.
Three simple steps:
The first step - click the "Request Availability and Price" button below;
The second step - fill the straightforward request blank;
The third step - we will send you all the information about the requested trip.
Another easy three-step way to do it is to:
The first step - click on the e-mail address on the top of this page;
The second step - choose your preferred mailing system and send us information about where, when and in how big group of people you should be;
The third step - we will send you our offer.
As well you can:
The first step - click on the green chat icon in the lower-right corner of the page;
The second step - choose if you want to call via phone or to send a message via WhatsApp;
The third step - we will answer your message or call and talk all the details with you.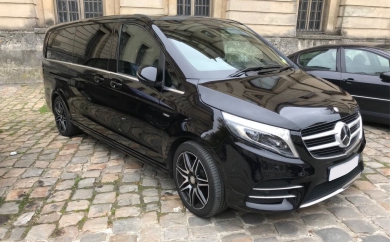 Van Class
Climate Control
Radio System
Navigation
A Van is an ideal vehicle for airport transfers, trade fair and event shuttle.
Made for small groups of people. We offer meet and great service for all of our airport transfer clients.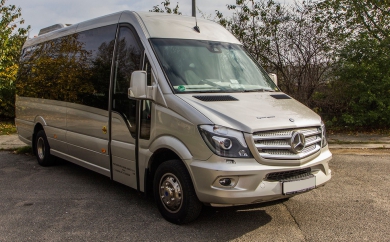 Minibus Class
Climate Control
Radio System
Microphone
Fridge
Navigation
Reclining seats
A Mini Bus is a good transport for groups of up to 16 people. The same perfect quality as bigger buses, our mini buses stand for comfortable travelling. All safety equipment is included (Speed Limiters, Safety Belts and ABS).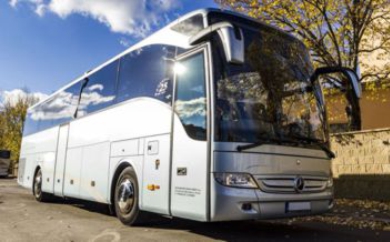 Bus Class
Climate Control
Radio System
Microphone
Fridge
WC
Reclining seats
Comfort Bus from BCS has all the comfort, that modern long-distance buses can offer, that allows passengers to enjoy relaxed travelling. Equipped with the entertainment systems. High priority is given to the safety equipment, including safety belts, speed limiters, ABS.
Event Transportation in Paris
We can organize our Buses in Paris, France based on your event schedule. Whether you need multiple coaches for multiple destinations or not, we've got you covered.
Paris Tour Bus Charter
You can leverage our fully customized minibus rental and driver Paris, which is tailored to your unique travel needs, to enjoy the best out of your tour.
Exhibition Transportation
When you hire bus in Paris, you get drivers that are locals and understand the city. Our drivers know their way around to any location, exhibition, theater, and all the other places you may wish to visit.
Road Shows in Paris
Our coaches can be of great importance to you as a Pop Star or Politician. We'll help you make the most of your road shows.
Church Group Tours
Do you have a church conference or any form of historical place visitation, for your members? We'll make your transition to and from the site smooth and comfortable with coach rental Paris.
Paris Airport Transfers
Bus companies in Paris will carry your group from the airport to your point of destination and bring you back to the airport when you wish.
Sports Events
Whether it's a football match, hockey game or any other sports event, we'll provide coach bus rental Paris that'll take your team to anywhere they wish to go.
Conference transfers
If your team is organizing or attending a conference bus rental Paris can offer prearranged transportation for all participating people groups.
Why Should I Hire Bus rental in Paris from Bus-Service?
Bus-Service offers the best services that are possible in Paris. With a clear vision of what is professional passenger transportation, we provide high standard solutions for business trips and CDG Airport transfers.
What we stand for is Safety, Comfort, Cleanness, Connectivity, Reliability, Flexibility.
Getting our clients from place A to place B in a scheduled and reliable way is our priority. If you have the same thoughts about what is essential in good traveling - we are aiming our service to you.
Visit Paris on the brand-new deluxe coaches that only the best modern bus companies Paris can provide. Rent a bus for a corporate event and enjoy your luxury trip guided by our support team.
We will answer your calls 24/7 if you need any assistance.
Reach us immediately and receive the most suitable offer for Bus charter in Paris from Bus-Service. Request availability and cost below.
Give your team the treat they deserve with BCS Travel Services Coach and Minibus Hire in Paris. Contact us now to get started.
When it comes to the point of visiting Paris, there is just an uncounted amount of reasons to get yourself to the most romantic city in the world. There are too many things to do in Paris! Paris is home to world-famous historical monuments such as the Eiffel Tower, Notre Dame, Bastille, Louvre and many more.
It is a magical city with a lot of iconic places, almost every person in the world knows where Paris is. I bet you have already seen a lot of beautiful pictures with the Eiffel Tower or Parisian streets and dreamed about getting to know this city of fashion. Paris is a young, unique, multi-cultural, and spirited city.
However, why should you be a traveler who wants to visit standard places in Paris like the Eiffel Tower or the Louvre? There are so many unusual places to see in Paris. For example, we advise you to enjoy the view from the Galerie's Lafayette rooftop terrace or Explore the shelves of the Abbey Bookshop. Maybe do you like vintage shopping, then you should shop for vintage goods at Objet Qui Parle to find some incredible gems in there.
Do you want to feel the true beauty and power of this lovely city, or to eat that famous croissant on the terrace and try to catch that Parisian aesthetic? Let's do this with our Paris private bus rental!
One of the most popular cafes in Paris is Angelina, which is not really a cafe, but a tea house. The place is really famous for its legendary African hot chocolate and beautiful atmosphere, but the lines to that tea house are outstanding.
Our advice to you is to experiment. Don't try to pop into the most famous cafes/restaurants, because almost every local family cafe can surprise you as much as a fancy and expensive one. If you are a fan of shopping, there are many designer boutiques and Europeans shops where you can buy unusual things.
Also, our advice is - if you want to think 'outside the box', please visit The Saint-Ouen flea market. You might be pretty amazed by the varieties of things in those little shops. This market is definitely worth a visit if you're a fan of shopping because you can spend hours strolling through the market searching for all sorts of weird and beautiful things.
Talking about markets, French people adore going to the local markets to buy fresh and high-quality products. They truly represent French gastronomy, where you can meet locals and find new friends and make connections.
Parisians love celebrating all kinds of holidays, no matter what time of the year it is right now. Celebrations throughout the year make Paris a fascinating place to be. New Year's Eve is, of course, one of the coziest Paris holidays. Everyone is spending it with friends and family at home, or at the cafes or restaurants.
One of the Parisian traditions on that celebrationis to get together at the Eiffel Tower. Or on the Champs-Elysées with bottles of Champagne and spend a great time together. An exciting celebration is Fête de la Musique that basically means Free concerts throughout the city. On that day you will hear pop music, techno, rock and many other genres from every street corner. La Fête de la Musique was started in 1982, and it offers a wide range of music.
Probably the main sports event in the city is the Paris Marathon. Every year, it sets off from the Avenue des Champs-Elysées, with around 50,000 participants, taking up the challenge of 42.195-kilometer race.
Welcome to cozy and aesthetic Paris! Get ready for having a good time with minibus rental for road trip Paris and bus hire Paris!