How To Request Bus-Service Coach Hire in Prague, Czech Republic?
Hiring a minibus or coach hire Prague at the Bus-Service is as easy as to say "One, Two, Three":
"One" - click the "Request Availability and Price" button below;
"Two" - fill the blank;
"Three" - we will send you all the information about the requested trip.
We offer a personal transportation manager for significant events. Make a request using your e-mail:
"One" - click on the e-mail address on the top of this page;
"Two" - choose your preferred mailing system and send us information about where, when and how big your group of people should be;
"Three" - we will send you the best offer we can provide.
Rent a bus charter in Prague using a mobile/cellphone:
"One" - click on that green chat icon in the lower-right corner of the page;
"Two" - choose if you want to call via phone or to send a message via WhatsApp;
"Three" - we will answer your message or call and talk through all the details with you.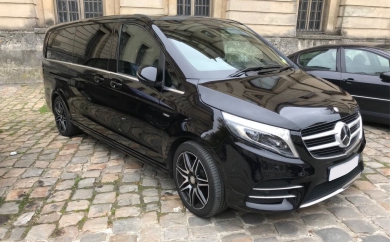 Van Class
Climate Control
Radio System
Navigation
A Van is an ideal vehicle for airport transfers, trade fair and event shuttle.
Made for small groups of people. We offer meet and great service for all of our airport transfer clients.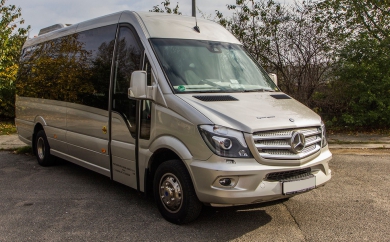 Minibus Class
Climate Control
Radio System
Microphone
Fridge
Navigation
Reclining seats
A Mini Bus is a good transport for groups of up to 16 people. The same perfect quality as bigger buses, our mini buses stand for comfortable travelling. All safety equipment is included (Speed Limiters, Safety Belts and ABS).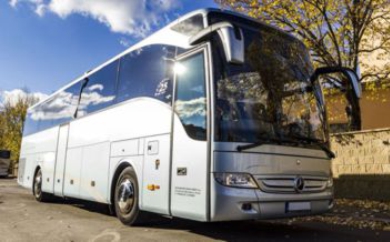 Bus Class
Climate Control
Radio System
Microphone
Fridge
WC
Reclining seats
Comfort Bus from BCS has all the comfort, that modern long-distance buses can offer, that allows passengers to enjoy relaxed travelling. Equipped with the entertainment systems. High priority is given to the safety equipment, including safety belts, speed limiters, ABS.
Event Transportation in Prague
We can organize our buses in Prague, Czech Republic based on your event schedule. Whether you need multiple coaches for multiple destinations or not, we've got you covered.
Prague Tour Bus Charter
You can leverage our fully customized minibus rental and driver Prague, which is tailored to your unique travel needs, to enjoy the best out of your tour.
Exhibition Transportation
When youh hire bus in Prague, you get drivers that are locals and understand the city. Our drivers know their way around to any location, exhibition, theater, and all the other places you may wish to visit.
Road Shows in Prague
Our coaches can be of great importance to you as a Pop Star or Politician. We'll help you make the most of your road shows.
Church Group Tours
Do you have a church conference or any form of historical place visitation, for your members? We'll make your transition to and from the site smooth and comfortable with coach rental Prague.
Prague Airport Transfers
Bus companies in Prague will carry your group from the airport to your point of destination and bring you back to the airport when you wish.
Bus hire Prague for Sports Events
Whether it's a football match, hockey game or any other sports event, we'll provide coach bus rental Prague that'll take your team to anywhere they wish to go.
Conference transfers
If your team is organizing or attending a conference bus rental Prague can offer prearranged transportation for all participating people groups.
Why Should I Hire bus rental in Prague from Bus-Service?
Bus-Service offers the most reliable services in Prague, Czech Republic such as minibus rental for road trip Prague.
With a clear understanding of what is a professional trip organization, we can find the highest standard options for business trips and PRG Airport transfers.
What we care for is Safety, Comfort, Cleanness, Connectivity, Reliability, Flexibility.
Getting our clients from place A to place B in a scheduled and reliable way is our priority. If you have the same thoughts about what is essential in good traveling - we are aiming our service to you.
Travel with the newest luxurious coaches, that a modern bus companies Prague can offer. Hire a bus for a corporate occasion and experience your leisure trip conducted by our crew.
We will answer your phone-calls 24/7 if you need any assistance during your travel. Contact us now and get the best offer for Prague coach trips from the Bus-Service Company.
Request availability and cost below.
Give your team the treat they deserve with Bus-Service Coach and Minibus Hire in Prague. Contact us now to get started.
A flourishing and bustling city, Prague now draws more tourists than ever before. But its charming downtown covers both a dark legacy and a resilient history. Dating back to around A.D. 870, Prague has faced many overthrows, attacks, fires, and floods.
It's this reputation for survival and determination that has made the Czech capital so captivating. Now, its legendary churches, tight streets, daunting hilltop palace, and statue-lined bridges form the view of an urban fairy tale. Even the most worn-out tourist would have trouble countering this city's spells.
Prague was a hidden gem, overshadowed by its showier neighbors to the west. But this city couldn't keep its wonders a secret for too long – now, it's a shelter for tourists seeking remarkable experiences at affordable costs.
Even now, top attractions – including the legendary Charles Bridge and the famous Prague Castle – grant free admission and many hotels offer apartments at a fraction of the price of other western European towns.
But this bargain-hunting legacy has a ticking clock on it, so if you wish to get a fire-sale price, now's the chance to do so.
We can give you or your company the best offer for the Prague Prague private bus rental, request availability and price. We will contact you and tell you about transportation opportunities with our mini-buses and coaches.