How To Request Bus-Service Coach Hire in Seville, Spain?
Hiring a minibus or a coach at the Bus-Service is as easy as to say "One, Two, Three":
"One" - click the "Request Availability and Price" button below;
"Two" - fill the blank;
"Three" - we will send you all the information about the requested trip.
We offer a personal transportation manager for significant events. Make a request using your e-mail:
"One" - click on the e-mail address on the top of this page;
"Two" - choose your preferred mailing system and send us information about where, when and how big your group of people should be;
"Three" - we will send you the best offer we can provide.
Rent a bus using a mobile/cellphone:
"One" - click on that green chat icon in the lower-right corner of the page;
"Two" - choose if you want to call via phone or to send a message via WhatsApp;
"Three" - we will answer your message or call and talk through all the details with you.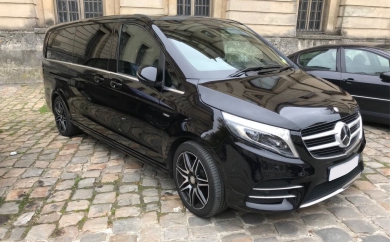 Van Class
Climate Control
Radio System
Navigation
A Van is an ideal vehicle for airport transfers, trade fair and event shuttle.
Made for small groups of people. We offer meet and great service for all of our airport transfer clients.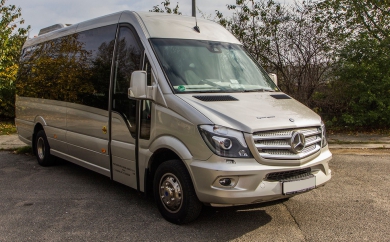 Minibus Class
Climate Control
Radio System
Microphone
Fridge
Navigation
Reclining seats
A Mini Bus is a good transport for groups of up to 16 people. The same perfect quality as bigger buses, our mini buses stand for comfortable travelling. All safety equipment is included (Speed Limiters, Safety Belts and ABS).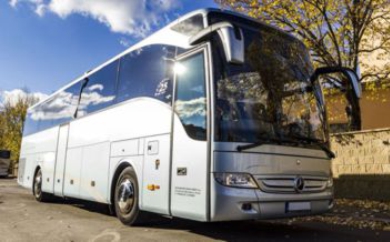 Bus Class
Climate Control
Radio System
Microphone
Fridge
WC
Reclining seats
Comfort Bus from BCS has all the comfort, that modern long-distance buses can offer, that allows passengers to enjoy relaxed travelling. Equipped with the entertainment systems. High priority is given to the safety equipment, including safety belts, speed limiters, ABS.
Event Transportation in Seville
We can organize our buses in Seville, Spain based on your event schedule. Whether you need multiple coaches for multiple destinations or not, we've got you covered.
Seville Tour Bus Charter
You can leverage our fully customized minibus rental and driver Seville services, which is tailored to your unique travel needs, to enjoy the best out of your tour.
Exhibition Transportation
When you hire bus in Seville, you get drivers that are locals and understand the city. Our drivers know their way around to any location, exhibition, theater, and all the other places you may wish to visit.
Road Shows in Seville
Our bus charter in Seville can be of great importance to you as a Pop Star or Politician. We'll help you make the most of your road shows.
Church Group Tours
Do you have a church conference or any form of historical place visitation, for your members? We'll make your transition to and from the site smooth and comfortable with coach rental Seville.
Seville Airport Transfers
Bus companies in Seville will carry your group from the airport to your point of destination and bring you back to the airport when you wish.
Bus hire Seville for Sports Events
Whether it's a football match, hockey game or any other sports event, we'll provide coach bus rental Seville that'll take your team to anywhere they wish to go.
Seville private bus rental for conference transfers
If your team is organizing or attending a conference bus rental Seville can offer prearranged transportation for all participating people groups.
Why Should I Hire Bus rental in Seville with Bus-Service company?
Bus-Service Spain offers the most reliable services in Seville such as minibus rental for road trip Seville.
With an expert understanding of what is a professional trip organization, we can find the highest standard options for business trips and SVQ Airport transfers.
What we stand for is Reliability, Safety, Comfort, Cleanness, Connectivity, Flexibility.
Helping our clients to get from place A to place B in a scheduled and reliable way is our main priority.
If you care for similar matters - we are offering to choose us.
Travel with the beautiful luxurious coaches that our modern bus companies Seville can provide.
Charter a coach for a corporate event and enjoy your luxury trip guided by our support team.
We will answer your phone-calls 24/7 if you need any assistance during your travel.
Contact us now and get the best offer regarding coach hire Seville from the Bus-Service Company.
Request availability and cost below.
Give your team the treat they deserve with Bus-Service Coach and Minibus Hire in Seville. Contact us now to get started.
According to myth, Sevilla was built by Hercules, and its roots are linked with the Tartessian culture. It was named Hispalis below the Romans and Isbiliya with the Moors. The crucial period in its history was following the exploration of America in 1492. For all its remarkable monuments and engaging history, Sevilla is globally recognized for being a happy city. While the Sevillians are known for their humor and sparkle, the city itself is striking for its vitality. It is the biggest city in Southern Spain, the town of Carmen, Don Juan and Figaro.
Sevilla rests on the banks of the Guadalquivir and is one of the most significant ancient centers in Europe. It has the tower of La Giralda, the cathedral (one of the greatest in Christendom), and the Alcázar Palace. Part of its riches includes Torre del Oro, Casa de Pilatos, the Town Hall, Archive of the Indies (where the actual documents of the American continent are kept), the Fine Arts Museum (the second most extensive picture exhibit in Spain), plus convents, congregation churches, and castles.
It has hosted two global displays (1929 and 1992) and is the administrative capital of Andalucía. The district of Triana on the other side of the river, La Macarena, the street of Las Sierpes, Santa Cruz and San Bartolomé, plus La Maestranza bullring, María Luisa Park and the riverside tracks are all symbolic pictures of Sevilla.