How To Request Bus-Service Coach Hire in Strasbourg?
Coach hiring "ABC." No complications - follow the instruction and get things done:
"A" - look for the "Request Availability and Price" button below and click it;
"B" - take a minute to fill the blank;
"C" - we will review your request ASAP and will send you our offer and information about the best transportation opportunities.
Request a trip using your e-mail, simple:
"A" - click on the e-mail address at the top of this page;
"B" - use you your favorite mailing system to send us your questions about coach availability and prices;
"C" - relax and wait while we are preparing for you the best offer on the market.
Make a request on the go with your mobile/cellphone:
"A" - locate the chat icon in the lower-right corner of the page;
"B" - click on it and choose if you want to call via phone or to send a message via WhatsApp. Talk to us;
"C" - Get our great coach offer.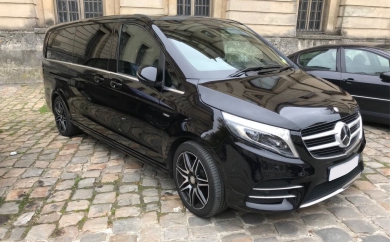 Van Class
Climate Control
Radio System
Navigation
A Van is an ideal vehicle for airport transfers, trade fair and event shuttle.
Made for small groups of people. We offer meet and great service for all of our airport transfer clients.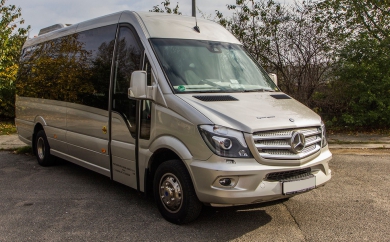 Minibus Class
Climate Control
Radio System
Microphone
Fridge
Navigation
Reclining seats
A Mini Bus is a good transport for groups of up to 16 people. The same perfect quality as bigger buses, our mini buses stand for comfortable travelling. All safety equipment is included (Speed Limiters, Safety Belts and ABS).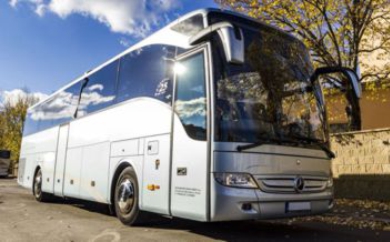 Bus Class
Climate Control
Radio System
Microphone
Fridge
WC
Reclining seats
Comfort Bus from BCS has all the comfort, that modern long-distance buses can offer, that allows passengers to enjoy relaxed travelling. Equipped with the entertainment systems. High priority is given to the safety equipment, including safety belts, speed limiters, ABS.
Event Transportation in Strasbourg
We can organize our buses in Strasbourg, France based on your event schedule. Whether you need multiple coaches for multiple destinations or not, we've got you covered.
Strasbourg Tour Bus Charter
You can leverage our fully customized minibus rental and driver Strasbourg services, which is tailored to your unique travel needs, to enjoy the best out of your tour.
Exhibition Transportation
When you hire bus in Strasbourg, you get drivers that are locals and understand the city. Our drivers know their way around to any location, exhibition, theater, and all the other places you may wish to visit.
Road Shows in Strasbourg
Our bus charter in Strasbourg can be of great importance to you as a Pop Star or Politician. We'll help you make the most of your road shows.
Church Group Tours
Do you have a church conference or any form of historical place visitation, for your members? We'll make your transition to and from the site smooth and comfortable with coach rental Strasbourg.
Strasbourg Airport Transfers
Bus companies in Strasbourg will carry your group from the airport to your point of destination and bring you back to the airport when you wish.
Bus hire Strasbourg for Sports Events
Whether it's a football match, hockey game or any other sports event, we'll provide coach bus rental Strasbourg that'll take your team to anywhere they wish to go.
Strasbourg private bus rental for conference transfers
If your team is organizing or attending a conference bus rental Strasbourg can offer prearranged transportation for all participating people groups.
Why Should I Hire Bus rental in Strasbourg with Bus-Service company?
One of the best bus companies Strasbourg — Bus-Service offers the most reliable services in Strasbourg such as minibus rental for road trip Strasbourg.
We have great experience in a professional trip organization; we can find the highest standard options for business trips and SXB Airport transfers.
We work hard to make all trips Safe, Comfortable, Clean, Reliable, and Flexible. We always follow the pre-arranged schedule to meet our client expectations.
What can be better than having no unexpected interruptions during the trip? We have an advanced and reliable bus fleet kept in perfect technical condition.
Hire a bus for a corporate occasion and experience your leisure trip conducted by our crew.
We will answer your calls 24/7 if you need any assistance.
Contact us now and get the best possible offer regarding coach hire Strasbourg from the Bus-Service Company.
Request availability and price below.
Give your team the treat they deserve with Bus-Service Coach and Minibus Hire in Strasbourg. Contact us now to get started.
5 Incredible Things to do in Strasbourg, France
With its sober and distinctive old-world character, Strasbourg is a charming city in France with 2000 years of history. Part French, part German, it merges the two cultures into its own blend of exquisiteness. It boasts exceptional fine-art galleries and historic museums showcasing the best of Strasbourg with ancient archeology and traditional Alsatian designs.
Marvel at the Strasbourg Cathedral
It's hard to miss the majestic Strasbourg Cathedral, one of the most stunning gothic churches in Europe. It is the perfect combination of monumental western architecture and the delicacy of medieval detail. It has stood for a thousand years, and the towering 142-meter spire reigned over the Middle-Ages as the tallest monument in the world. You can enter the Cathedral to gaze at the Byzantine-style stained-glass windows and take a look at an astronomical clock of the Renaissance era. You can also climb the Cathedral's tower to get a magnificent view of the cityscape, the plains of the Rhine, the Black Forest and the mountains beyond.
Wander around La Petite France
At the core of the city, lies the most atmospheric part of Strasbourg, intertwined along its length by narrow cobblestone lanes and beautiful half-timbered houses perched on the banks of the sprawling canals. You can take a stroll through these medieval streets and ponder what life would've been like in there a few hundred years ago. Well-preserved Alsatian houses decorated with flowered balconies dot the whole neighborhood and make it one of the best places to see in Strasbourg. You can wander around the quarter using pedestrian bridges that connect the streets over the canals, away from the urban hustle and bustle.
Christmas in Strasbourg
If you happen to be traveling in Strasbourg during the Holidays, then one of the most enjoyable things to do there is a stroll around in the famous Christmas Market. This is one of Europe's largest Christmas festival markets and a tradition that the residents of Strasbourg have been upholding for hundreds of years. Every year, the houses and streets in the city are decorated wholeheartedly, and a huge Christmas tree is illuminated right in the center of Strasbourg at Place Kléber. You can browse through the markets and stalls offering Christmas ornaments, arts, and crafts, local Alsatian cuisines, and delicacies.
Go inside the Rohan Palace
The Palais des Rohan used to be the official residence of Bishop-Princes during the 18th century. Rest of the massive structure houses three magnificent museums and art galleries. Its first floor is home to the Museum of Fine Arts and displays an excellent collection of paintings from renowned European artists, ranging from the Middle Ages to contemporary periods. The ground floor, previously the apartments of Rohan's Cardinals, hosts the Museum of Decorative Arts with an extensive assortment of ceramics, porcelain, and timepieces while the Archaeological Museum in the basement has one of the best antique collections in all of France.
Sip an Alsatian wine
This is one of the must-dos while visiting Strasbourg. Alsace is known throughout the world for the delicious wines and, being one of its main cities, Strasbourg is the center of wine-making art. There are plenty of vineyards that can offer you tastings at their storefronts sprawled across the city.