How To Request Bus-Service Coach Hire in Stuttgart, Germany?
Bus hire Stuttgart "ABC." No complications - follow the instruction and get things done:
"A" - look for the "Request Availability and Price" button below and click it;
"B" - take a minute to fill the blank;
"C" - we will review your request ASAP and will send you our offer and information about the best transportation opportunities.
Request a bus charter in Stuttgart using your e-mail, simple:
"A" - click on the e-mail address at the top of this page;
"B" - use you your favorite mailing system to send us your questions about coach availability and prices;
"C" - relax and wait while we are preparing for you the best offer on the market.
Make a request on the go with your mobile/cellphone:
"A" - locate the chat icon in the lower-right corner of the page;
"B" - click on it and choose if you want to call via phone or to send a message via WhatsApp. Talk to us;
"C" - Get our great coach hire Stuttgart offer.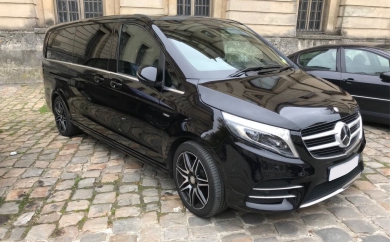 Van Class
Climate Control
Radio System
Navigation
A Van is an ideal vehicle for airport transfers, trade fair and event shuttle.
Made for small groups of people. We offer meet and great service for all of our airport transfer clients.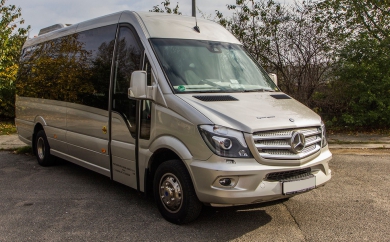 Minibus Class
Climate Control
Radio System
Microphone
Fridge
Navigation
Reclining seats
A Mini Bus is a good transport for groups of up to 16 people. The same perfect quality as bigger buses, our mini buses stand for comfortable travelling. All safety equipment is included (Speed Limiters, Safety Belts and ABS).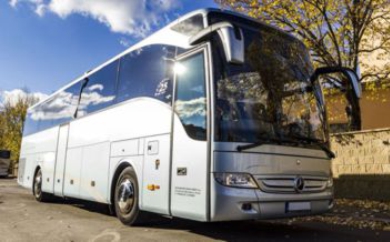 Bus Class
Climate Control
Radio System
Microphone
Fridge
WC
Reclining seats
Comfort Bus from BCS has all the comfort, that modern long-distance buses can offer, that allows passengers to enjoy relaxed travelling. Equipped with the entertainment systems. High priority is given to the safety equipment, including safety belts, speed limiters, ABS.
Event Transportation in Stuttgart
We can organize our buses in Stuttgart, Germany based on your event schedule. Whether you need multiple coaches for multiple destinations or not, we've got you covered.
Stuttgart Tour Bus Charter
You can leverage our fully customized minibus rental and driver Stuttgart, which is tailored to your unique travel needs, to enjoy the best out of your tour.
Exhibition Transportation
When you hire bus in Stuttgart, you get drivers that are locals and understand the city. Our drivers know their way around to any location, exhibition, theater, and all the other places you may wish to visit.
Road Shows in Stuttgart
Our Stuttgart private bus rental can be of great importance to you as a Pop Star or Politician. We'll help you make the most of your road shows.
Church Group Tours
Do you have a church conference or any form of historical place visitation, for your members? We'll make your transition to and from the site smooth and comfortable with coach rental Stuttgart.
Stuttgart Airport Transfers
Bus companies in Stuttgart will carry your group from the airport to your point of destination and bring you back to the airport when you wish.
Sports Events
Whether it's a football match, hockey game or any other sports event, we'll provide coach bus rental Stuttgart that'll take your team to anywhere they wish to go.
Conference transfers
If your team is organizing or attending a conference bus rental Stuttgart can offer prearranged transportation for all participating people groups.
Why Should I Hire Bus rental in Stuttgart from Bus-Service?
Bus-Service gives the opportunity to use its best services in Stuttgart.
With an amazing concept of what is expert tourist transportation, we implement high standard solutions for enterprise trips and STR Airport transfers.
What we stand for is Safe, Comfortable, Clean, Reliable, and Flexible charter service. Taking care of our customers from the beginning and until the end of our service is our priority.
We care for our clients and are offering them exclusive buses. They can travel with our ecology friendly luxurious coaches.
We take in mind not only comfort but also the future of our children and the planet.
Charter a transport for a corporate meeting and enjoy a luxurious journey supervised by our well-trained support team.
We will be available for your calls 24/7 if there will be any extra need for assistance.
Request availability and price below.
Give your team the treat they deserve with Bus-Service Coach and Minibus Hire in Stuttgart. Contact us now to get started.
If you are ready for an adventure — call us now and get the best possible offer from the Bus-Service company.
Located in the Neckar Valley, Stuttgart is the capital of the state of Baden-Württemberg. For centuries until the nineteenth century, the city was the chair of the Governors and then the Kings of Württemberg State. They left after themselves royal palaces for that have converted administration buildings and museums.
Stuttgart was also the center of car-industry royalty, as the region where the first car and motorcycle were designed by Gottlieb Daimler and Karl Benz respectively.
The base for both Porsche and Mercedes-Benz are in Stuttgart, and the fashionable modern museums for both brands are not to be missed. One of the best examples of Stuttgart's fantastic architecture, together with a house by Le Corbusier, an Art Nouveau market hall, and a state-of-the-art new library.
Touring the Mercedes-Benz Museum, in a rounded silvery structure with a dual helix, is partly a trip back to the birth of the automobile.
Karl Benz created what is recognized as the earliest actual car in 1886. The dual helix configuration allows for two parallel audio-guided tours; one is diving into the extraordinary history of the brand, and the other revealing the wide variety of vehicles assembled by Mercedes-Benz.
And because of that dual helix design, you can interchange from one tour to the other at any time. The pair routes meet when you enter in the present day and volume up the brand's 21st-century discoveries.
In all, there are one hundred sixty vehicles and one and a half thousand or more exhibits.
At Zuffenhausen, a small way up the road from Stuttgart, are the headquarters of one more car brand of worldwide fame.
The Porsche Museum has stayed around since the seventies but went through a stylish redesign a decade ago and opened once again in 2009. The museum reveals the beginning of the brand and describes the many discoveries of founder and engineer, Ferdinand Porsche, the man who created the VW Beetle and the original gasoline-electric hybrid.
There are interactive, multi-sensual pretensions, for example, a new sound installation you can command and a "touch wall." Timeless masterpieces like 356, 911 and 917 are just one part of an eighty-vehicle strong fleet at the museum.
What's amazing is that nearly all are in driving state and are moved throughout the world for heritage races; you can even examine inside of the workshop where they're kept.
Car lovers can't afford to miss this section of automotive history on Taubenheimstraße. The Gottlieb Daimler Memorial is the huge outbuilding where Daimler and his co-engineer Wilhelm Maybach worked hard in the eighteen-eighties to create a liquid petroleum engine that as he hoped would power transports on land, water and also in the air.
It was here that they made the first light sprinting motor, as well as a two-wheeled "riding wagon," the first-ever motorcycle and the "Neckar," the first-ever motorboat. By the end of the eighteen-eighties, the workshop had become too small, and the two engineers moved to a factory.
The old mood of the workshop has been recreated, and there are models, sketches, photos, diagrams, and a reproduction of that riding wagon.
Take a tour with Bus-Service. Our VIP drivers will get you to any location fast and safe. Request price and availability now and get the best offer.