How To Request Bus-Service Coach Hire in Tallinn?
Hiring a minibus or a coach at the BCS Travel is as easy as to say "One, Two, Three":
"One" - click the "Request Availability and Price" button below;
"Two" - fill the blank;
"Three" - we will send you all the information about the requested trip.
We offer a personal transportation manager for significant events. Make a request using your e-mail:
"One" - click on the e-mail address on the top of this page;
"Two" - choose your preferred mailing system and send us information about where, when and how big your group of people should be;
"Three" - we will send you the best offer we can provide.
Rent a bus using a mobile/cellphone:
"One" - click on that green chat icon in the lower-right corner of the page;
"Two" - choose if you want to call via phone or to send a message via WhatsApp;
"Three" - we will answer your message or call and talk through all the details with you.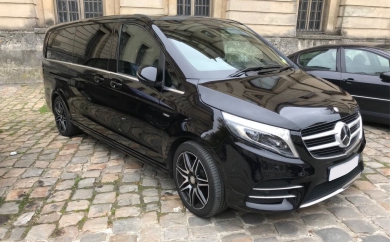 Van Class
Climate Control
Radio System
Navigation
A Van is an ideal vehicle for airport transfers, trade fair and event shuttle.
Made for small groups of people. We offer meet and great service for all of our airport transfer clients.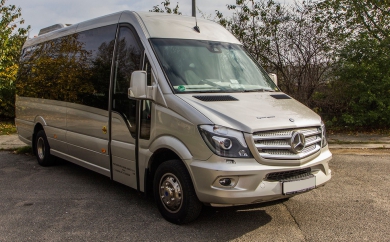 Minibus Class
Climate Control
Radio System
Microphone
Fridge
Navigation
Reclining seats
A Mini Bus is a good transport for groups of up to 16 people. The same perfect quality as bigger buses, our mini buses stand for comfortable travelling. All safety equipment is included (Speed Limiters, Safety Belts and ABS).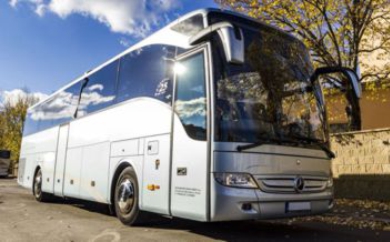 Bus Class
Climate Control
Radio System
Microphone
Fridge
WC
Reclining seats
Comfort Bus from BCS has all the comfort, that modern long-distance buses can offer, that allows passengers to enjoy relaxed travelling. Equipped with the entertainment systems. High priority is given to the safety equipment, including safety belts, speed limiters, ABS.
Event Transportation in Tallinn
We can organize our buses in Tallinn, Estonia based on your event schedule. Whether you need multiple coaches for multiple destinations or not, we've got you covered.
Tallinn Tour Bus Charter
You can leverage our fully customized minibus rental and driver Tallinn services, which is tailored to your unique travel needs, to enjoy the best out of your tour.
Exhibition Transportation
When you hire bus in Tallinn, you get drivers that are locals and understand the city. Our drivers know their way around to any location, exhibition, theater, and all the other places you may wish to visit.
Road Shows in Tallinn
Our bus charter in Tallinn can be of great importance to you as a Pop Star or Politician. We'll help you make the most of your road shows.
Church Group Tours
Do you have a church conference or any form of historical place visitation, for your members? We'll make your transition to and from the site smooth and comfortable with coach rental Tallinn.
Tallinn Airport Transfers
Bus companies in Tallinn will carry your group from the airport to your point of destination and bring you back to the airport when you wish.
Bus hire Tallinn for Sports Events
Whether it's a football match, hockey game or any other sports event, we'll provide coach bus rental Tallinn that'll take your team to anywhere they wish to go.
Tallinn private bus rental for conference transfers
If your team is organizing or attending a conference bus rental Tallinn can offer prearranged transportation for all participating people groups.
Why Should I Hire Bus rental in Tallinn with Bus-Service company?
We offer the best possible services in Tallinn such as minibus rental for road trip Tallinn.
We know how to provide professional passenger transportation, using only the high standard solutions for business trips and TLL Airport transfers.
Safe, Comfortable, Clean, Connective, Reliable, and Flexible — These are our fundamental principles.
Our priority is taking our customers from location A to location B in time and in a very secure way.
We offer the best transportation service on the market.
Tour with the most modern bus companies Tallinn — We don't compromise on the quality of our service.
Request a charter bus for a corporate occasion and experience your leisure trip conducted by our crew.
We will take action if you require any help during the ride 24/7.
Contact us immediately and get the best possible offer regarding coach hire Tallinn.
Request availability and price below.
Give your team the treat they deserve with Bus-Service Coach and Minibus Hire in Tallinn. Contact us now to get started.
What to do in Tallinn?
Are you looking for places to visit outside the expensiveness of London or the overly crowded Venice? We might have the perfect answer for you.
Located at the crossroads of medieval trade and intertwining cultures, Tallinn, the capital of Estonia, is a hidden treasure of the Baltics waiting to be truly discovered.
Though it's a small, compact city, but you will never run out of things to do in Tallinn. Its rich blend of cultures and the medieval outlook has the power to mesmerize anyone visiting Tallinn.
Kadriorg Park
Kadriorg Park is perhaps the biggest and most beautiful area in Tallinn which holds in its embrace, a magnificent 300 years old palace housing the great Kadriorg Art Museum. You can go for a stroll around the flower beds that surround the Swan Pond or wander around on the promenade that ends in the Presidential Palace.
There are quite a lot of museums nearby, including the Kumu Art museum that encompasses a fascinating collection of Estonian art. There are cafes around too which serve fresh-baked delicacies that you can enjoy while you're in the park.
Explore the Old Town
Walk around the cobblestone streets that move like veins through Tallinn's Old Town, one of Europe's best-preserved medieval cities. These old walkways will take you past some of the most intriguing museums, restaurants, and picturesque ancient houses from the medieval era. The small alleys and sidewalks are dotted with countless artisans and hidden antique shops. You can wind up around some interesting, quirky museums too before you finally give up walking on the never-ending pathways.
Visit the Kalamaja
Kalamaja is unarguably one of the coolest places to see in Tallinn. The most popular spot there is the Telliskivi Loomelinnak or the Creative City. The Telliskivi has turned an aging industrial complex into studios, creative spaces for companies, offices, cool restaurants, and aesthetic cafes, coffee shops and a range of fancy bars that focus on local and international beverages. This creative space has become a very attractive investment opportunity for businesses and shows promise to nurture startups by future entrepreneurs. Telliskivi is decorated beautifully with hipster street art that catches the eyes.
Check out the cool Seaplane Harbor Museum
This European maritime museum easily presents the best of Tallinn and Estonia in general. It is one of Europe's most exhilarating museums with around 200 different maritime articles at the display on its hangars. It provides some of the best things to do with your family; rides in the Yellow Submarine, aquariums, cinemas, great cafes and a children's park right outside.
Marvel at the old churches
A series of beautiful church spires govern the skyline of Tallinn as the local buildings are bound by law to never overtake them. You can start with St. Olav's Church and climb atop its highest tower that presents a breathtaking panoramic view of the city. Not very far from the St. Olav's is the Holy Spirit Church famous for sheltering the underprivileged during olden times. St. Niguliste Church which was almost fully destroyed during the Second World War now stands as one of the branches of the Art Museum of Estonia.
However, the oldest of them all, the Cathedral of Saint Mary the Virgin, can still be seen on a hill overlooking the city under it. It stands today as magnificently as ever even after surviving more than 700 years of fires and fighting in the region.