How To Request Bus-Service Coach Hire in Tel Aviv?
Our company is offering an effortless and understandable way to rent a coach and organize your trip.
Three simple steps:
The first step - click the "Request Availability and Price" button below;
The second step - fill the straightforward request blank;
The third step - we will send you all the information about the requested trip.
Another easy three-step way to do it is to:
The first step - click on the e-mail address on the top of this page;
The second step - choose your preferred mailing system and send us information about where, when and in how big group of people you should be;
The third step - we will send you our offer.
As well you can:
The first step - click on the green chat icon in the lower-right corner of the page;
The second step - choose if you want to call via phone or to send a message via WhatsApp;
The third step - we will answer your message or call and talk all the details with you.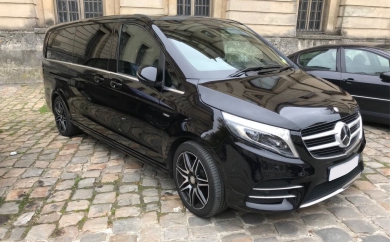 Van Class
Climate Control
Radio System
Navigation
A Van is an ideal vehicle for airport transfers, trade fair and event shuttle.
Made for small groups of people. We offer meet and great service for all of our airport transfer clients.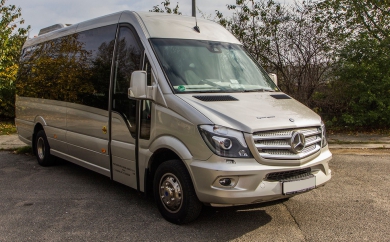 Minibus Class
Climate Control
Radio System
Microphone
Fridge
Navigation
Reclining seats
A Mini Bus is a good transport for groups of up to 16 people. The same perfect quality as bigger buses, our mini buses stand for comfortable travelling. All safety equipment is included (Speed Limiters, Safety Belts and ABS).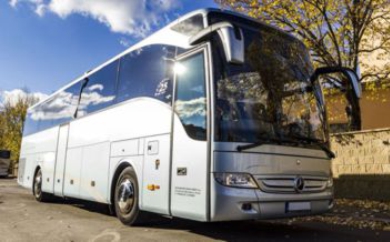 Bus Class
Climate Control
Radio System
Microphone
Fridge
WC
Reclining seats
Comfort Bus from BCS has all the comfort, that modern long-distance buses can offer, that allows passengers to enjoy relaxed travelling. Equipped with the entertainment systems. High priority is given to the safety equipment, including safety belts, speed limiters, ABS.
Event Transportation in Tel Aviv
We can organize our buses in Tel Aviv, Israel based on your event schedule. Whether you need multiple coaches for multiple destinations or not, we've got you covered.
Tel Aviv Tour Bus Charter
You can leverage our fully customized minibus rental and driver Tel Aviv services, which is tailored to your unique travel needs, to enjoy the best out of your tour.
Exhibition Transportation
When you hire bus in Tel Aviv, you get drivers that are locals and understand the city. Our drivers know their way around to any location, exhibition, theater, and all the other places you may wish to visit.
Road Shows in Tel Aviv
Our bus charter in Tel Aviv can be of great importance to you as a Pop Star or Politician. We'll help you make the most of your road shows.
Church Group Tours
Do you have a church conference or any form of historical place visitation, for your members? We'll make your transition to and from the site smooth and comfortable with coach rental Tel Aviv.
Tel Aviv Airport Transfers
Bus companies in Tel Aviv will carry your group from the airport to your point of destination and bring you back to the airport when you wish.
Bus hire Tel Aviv for Sports Events
Whether it's a football match, hockey game or any other sports event, we'll provide coach bus rental Tel Aviv that'll take your team to anywhere they wish to go.
Tel Aviv private bus rental for conference transfers
If your team is organizing or attending a conference bus rental Tel Aviv can offer prearranged transportation for all participating people groups.
Why Should I Hire Bus rental in Tel Aviv with Bus-Service company?
One of the best bus companies Tel Aviv — Bus-Service offers safe and reliable services in Tel Aviv such as minibus rental for road trip Tel Aviv.
We have great skills in an expert trip organization; we can find the highest level options for company trips and TLV Airport transfers.
We put a lot of effort into making all trips Reliable, Safe, Comfortable, Clean, and Flexible.
We do everything to follow the pre-arranged with our client schedule so that our customers can get what they expect. When you are ordering a service from us, you can be absolutely sure that you'll get where you need.
Our drivers are professionals who are capable of being very polite and respecting their duties. We have an advanced and reliable bus fleet that is kept in perfect technical condition and cleanliness.
Rent a bus for a business conference occasion and experience your leisure trip conducted by our crew.
We will answer your calls 24/7 if you need any assistance. Contact us now and get the best charter offer regarding coach hire Tel Aviv from the Bus-Service Company.
Request availability and price below.
Give your team the treat they deserve with Bus-Service Coach and Minibus Hire in Tel Aviv. Contact us now to get started.
Traveling Tel Aviv With a Charter Bus
One of the most vibrant cities in the world is Tel Aviv. It is titled as the 'Mediterranean Capital of Cool' by the New York Times. The city remains alive 24/7
A unique pulse
Mediterranean beaches
A buzzing local cultural
Incredible food
UNESCO recognized architecture
International outlook.
So, don't miss it! Visit Tel Aviv's attractions on holidays and enjoy the most beautiful and eye-catching scenes.
Places to See in Tel Aviv
There are dozens of places to visit at Tel Aviv, but you must stop by the mentioned ones especially. The first place in Rabin Square, located at the center of Tel Aviv, formerly Kings of Israel square. There are a lot of museums in Tel Aviv ranging from national institutions:
Tel Aviv Museum of Art
Beit Hatfutsot
Museum of the Diaspora
If you are a history lover, you must explore fabulous museums like the Tel Aviv Museum of Art, Eretz Israel Museum, and Palmach Museum.
There are several historical places to visit in Tel Aviv. Like the historical landmarks of Ben-Gurion House, Independence Hall, Beit Hartfursot, and Yitzhak Rabin Center Travelers and locals alike flock to the many markets in Tel Aviv daily.
Whether you are looking to buy fruits, blossoms, collectibles, art, or even vintage apparel, there is an option to suit everyone's needs. Shopping in Tel Aviv can be a sensory adventure, vibrant with flavors, vibrations, textures, and smells, and lets you enjoy not only the products you buy but the whole experience.
The city lives in the markets, don't forget to pay a visit. Markets to visit include Jaffa Bazaar, Nachalat Binyamin, and Carmel Market. Do not miss out on the old neighborhoods of Neve Tzedek and Kerem Hatemanim. Hang out at Ha'Yarkon Park and the Tel Aviv Beaches. The fabulous Tel Aviv Port.
Tel Aviv Holiday Trip
Tel Aviv is undoubtedly a tourist hub. The local transportation is a great way to get acquaintance with the local culture. The vibrant city offers local transportation to travelers too, but in the case of the group traveling it, might get challenging to find the train to commute in a group.
Also, the routes aren't that flexible to cater to every single traveler's route.
So what is the best solution for you?
If you want to obtain the maximum out of your Tel Aviv tour, then the charter bus is the only best option for you to avail.
Why should you hire a charter bus?
A charter bus can give you numerous benefits. Some of these are:
Renting a charter bus is equivalent to a hassle-free trip. New places and new routes are often challenging for novices so a professional driver can save you from worrying.
You will follow the clock. The charter buses will follow your fixed schedule. So, you will not be late for reaching any destination.
The co-travelers will make traveling more memorable and joyous rather than traveling alone.
The charter buses can follow your whole traveling schedule, so you are free from the hassle of changing the vehicles at several spots.
They are luxurious and comfortable. So, no more backaches and pleasant traveling experience.
Don't get confused by the luxury and the size of the charter buses; they are the best affordable option to travel throughout Tel Aviv.
The extra amenities which the charter buses offer is unmatchable. The Wi-Fi connection, beverages, and the music system can make your trip more joyous.
The charter buses are the eco-friendly solution. Traveling by keeping the environment, unharmed should be the price for seeing the beauties of the earth.
Travel by bus charter in Tel Aviv, and enjoy your trip!