How To Request a Bus From BCS Travel in Vienna, Austria?
Coach hiring "ABC". No complications - follow the instruction and get things done:
"A" - look for the "Request Availability and Price" button below and click it;
"B" - take a minute to fill the blank;
"C" - we will review your request ASAP and will send you our offer and information about the best transportation opportunities.
Request a trip using your e-mail, simple:
"A" - click on the e-mail address at the top of this page;
"B" - use you your favorite mailing system to send us your questions about coach availability and prices;
"C" - relax and wait while we are preparing for you the best offer on the market.
Make a request on the go with your mobile/cellphone:
"A" - locate the chat icon in the lower-right corner of the page;
"B" - click on it and choose if you want to call via phone or to send a message via WhatsApp. Talk to us;
"C" - Get our great coach offer.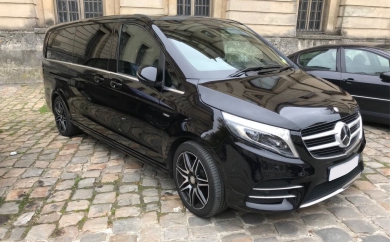 Van Class
Climate Control
Radio System
Navigation
A Van is an ideal vehicle for airport transfers, trade fair and event shuttle.
Made for small groups of people. We offer meet and great service for all of our airport transfer clients.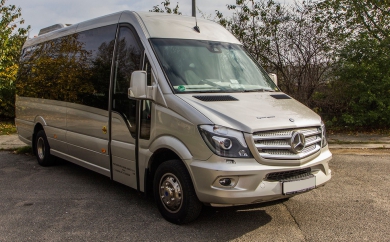 Minibus Class
Climate Control
Radio System
Microphone
Fridge
Navigation
Reclining seats
A Mini Bus is a good transport for groups of up to 16 people. The same perfect quality as bigger buses, our mini buses stand for comfortable travelling. All safety equipment is included (Speed Limiters, Safety Belts and ABS).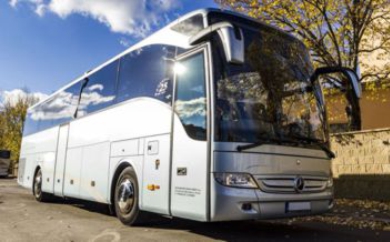 Bus Class
Climate Control
Radio System
Microphone
Fridge
WC
Reclining seats
Comfort Bus from BCS has all the comfort, that modern long-distance buses can offer, that allows passengers to enjoy relaxed travelling. Equipped with the entertainment systems. High priority is given to the safety equipment, including safety belts, speed limiters, ABS.
Event Transportation
We can organize our coaches based on your event schedule. Whether you need multiple coaches for multiple destinations or not, we've got you covered.
Tour Bus Charter
You can leverage our fully customized coach rental, which is tailored to your unique travel needs, to enjoy the best out of your tour.
Exhibition Transportation
When you hire our coach, you get drivers that are locals and understand the city. Our drivers know their way around to any location, exhibition, theater, and all the other places you may wish to visit.
Road Shows
Our coaches can be of great importance to you as a Pop Star or Politician. We'll help you make the most of your road shows.
Church Group Tours
Do you have a church conference or any form of historical place visitation, for your members? We'll make your transition to and from the site smooth and comfortable.
Airport Transfers
Our coach will carry your group from the airport to your point of destination and bring you back to the airport when you wish.
Sports Events
Whether it's a football match, hockey game or any other sports event, we'll provide coaches for hire that'll take your team to anywhere they wish to go.
Conference transfers
If your team is organizing or attending a conference we can offer prearranged transportation for all participating people groups.
Why Should I Hire a Coach from The BCS Travel?
As one of the transportation leaders in Vienna, we offer excellent services for our clients.
With a clear vision of what is professional passenger transportation, we provide high standard solutions for business trips and VIE Airport transfers.
What we stand for is Safety, Comfort, Cleanness, Connectivity, Reliability, Flexibility.
Bringing our customers from point A to point B just in time and in the safest way is our main priority.
If you care for the same matters - we are proposing our service to you.
Tour with the most modern comfortable coaches, that a coach hire company can offer.
Charter a bus for a corporate event and experience your luxury journey supervised by our support team.
We will answer your calls 24/7 if you need any assistance.
Reach us immediately and receive the most suitable offer for Vienna coach trips from the BCS Travel Company.
Request availability and price below.
Give your team the treat they deserve with BCS Travel Services Coach and Minibus Hire in Vienna. Contact us now to get started.
Vienna is not only a great historical place and the capital of the once-big Austrian Empire. It has something more hidden inside. Public pools during the summertime will cool off any visitor. There are lots of sports activities for those who are more into it. Football, beach volleyball, and mini-golf are amongst them. If you like something a bit quieter - you can play chess there.
There is no obligation to wait for the summer to attend the pools. There are lots to choose from during the winter too: wellness areas and saunas for a healthy portion of leisure on a cold winter day. Pool gymnastics and Aqua fitness groups are an excellent and gentle way to keep fit, especially for older adults.
Some of the indoor pools offer swimming lessons for children from three years and up.
For more than two decades the movie festival on Rathausplatz, the plaza in front of The City Hall, takes place during the summer. This unique place draws up to 900,000 visitors each year to enjoy the unique atmosphere, attend some musical highlights, and indulge in worldly culinary pleasures.
Of course, there are also the world-known palaces and undescribable places — for example, The Schönbrunn Palace, with its ONE THOUSAND FOUR HUNDRED FORTY and ONE room. Enormously huge place. The Austrian royal family used it for hundreds of years.
Also, the fortresses positioned on the hills surrounding the city as a part of the once-great military protection system. Definitely worth visiting.
Vienna is also a home of wine production. During the autumn it is possible to come and visit Austrian wineries to taste different kinds of drinks. Those places are not only good for tasting wine but also to enjoy the beauty of the landscape and to relax.
Come and visit the city of Vienna and carry these memories with you for decades after.